Hands down, the baddest cars at CES... and one dog
These cars were in a class by themselves at International CES in Las Vegas. Imagine yourself behind the wheel of these edgy vehicles with the latest in audio, lighting and interior design.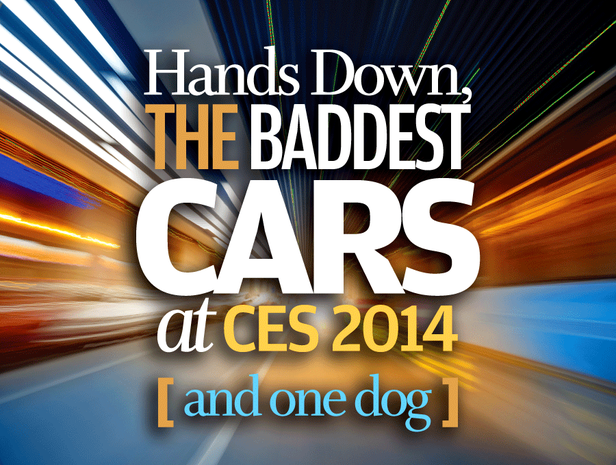 The baddest cars at CES
An Audi prototype with laser headlights. A Toyota prototype with LED skin that works like a display, playing video. Customized Corvettes, Mustang GT500s and other cars with 500hp engines and a hand-sewn, Italian leather interior.
These are just a few of the cars that were on display at this year's International CES in Las Vegas. Whether or not you are a car enthusiast, you can't deny that these cars are stunning.
Toyota's FV2 concept car
The skin of Toyota's FV2 concept car is a form-fitted LED augmented reality display. The vehicle uses voice and image recognition to determine the driver's mood as well as past driving habits to suggest destinations. The car also takes into account the driver's skill to assist in controlling the vehicle.
The FV2 has no steering wheel. Instead, the car turns like a motorcycle, with the driver shifting his body to move the four-wheeler left and right, backward and forward. The car also has a variety of safety features, including advance-warning systems about possible impending danger, such as blind spots and traffic at intersections. The driver and the car literally become one mobile entity.
Toyota's FV2 concept car in action
In this video, you can see how the FV2 moves. The windscreen can be raised to different positions in order to protect the driver when he is standing or sitting as the vehicle is moving. (Yeah, you can drive it while standing).
The car has vehicle-to-vehicle communications that connect with other enabled cars around it as well as highway infrastructure to capture safety information. The information is then displayed on the augmented reality display on the windscreen.
Local Motors Rally Fighter
This is the Rally Fighter by Local Motors, a new American car company. The car, on display at the MidlandUSA wireless communications booth, was designed as an open Internet project. People were able to share their ideas for the concept, and Local Motors built the vehicle based on those ideas. 
Local Motors Rally Fighter
The off-road, on-road vehicle has a General Motors power train, including an LS3, 430 horsepower Corvette engine. The front of the car has an 18-in. wheel base and the rear has a 20-in. base. For all the power it has, the vehicle weighs only 3,820 lbs.
1978 Corvette
This fully customized 1978 Corvette has a 5.4-liter, 650 horsepower Ford Modular Engine with an Eaton supercharger.
The car has a widened front and lowered rear suspension that is accented with ZR1 headlights and C5 taillights. Inside is a 1963-style Corvette dashboard.
1978 Corvette
The Corvette, owned by Arc Audio, also sports a sophisticated audio system consisting of seven speakers and two amplifiers with a combined 2,000 watts of power. The speakers can be custom tuned with an Arc Audio PS8 equalizer processor.
2014 Chevrolet Corvette Stingray
Here we have the 2014 Chevrolet Corvette Stingray. The seventh generation of this American classic muscle car adds some European flare to the body. 
This car, which includes the Z51 performance package, has a small block, LT1 V8 engine that produces 460 horsepower. This Corvette will go from zero-to-60 mph in 3.8 seconds. The new Corvette also comes with Driver Mode Selector, allowing drivers to select various road settings, such as touring mode, weather mode or Eco mode for conserving fuel. Oh, yeah. It also comes with Sport mode and Track mode for… well, you know.
Toyota's FCV Hydrogen Fuel car
Toyota's FCV Hydrogen Fuel car makes its own electricity through a fuel cell stack. This is not a concept car; it will be selling in 2015.
The only emission from the car is water vapor. Toyota believes it has overcome the issues associated with hydrogen-powered cars, which have included problems with cold starts, fuel availability, durability and cost.
Toyota's FCV Hydrogen Fuel car
To address cost, Toyota scrapped its hydrogen-powered SUV and moved to a lighter automobile, cutting the number of hydrogen fuel tanks from four to two.
Jena Hartline, Toyota's environmental communications manager, said one promising area for hydrogen fuel is natural methane gas, which can yield hydrogen when pressurized steam is added to it.
This image shows the inner works of Toyota's FCV Hydrogen Fuel car.
Modified Mini Coupe
This 2012 Mini Coupe has been modified with a powerful audio and lighting system. The audio system includes two 10-in. woofers, four in-door 6-in. x 9-in. mid-base speakers, and two 6.5-in. coax speakers – for eight speakers in all. The amplifiers have a total of 3,400 watts of power.
Mini Coupe iPad
The custom mounted iPad in the modified 2012 Mini Coupe controls the audio system, from RE Audio. 
2015 Ford Mustang
Ford announced its 2015 Mustang at CES, using the new model to unveil improvements to its AppLink mobile application platform. AppLink allows drivers to use up to 60 apps on their mobile devices, including streaming music service such as Pandora, sports channels such as MLB.com and Parkomedia, which locates area parking lots.
Ford Mustang
This image shows off Ford's new 2015 Mustang from the rear.
Audi Sport Quattro
This Audi Sport Quattro is a concept car, but most of its features will be incorporated into future models within three to five years. Perhaps the most revolutionary change in the car is its headlights, which are a combination of LEDs and lasers. The LEDs are used for short-range lighting and the lasers for long distance. The laser's white light can project up to 500 meters ahead of the Quattro.
The LED-Laser headlights will be used later this year in Audi's R18 E-Tron Quattro race car at the Le Mans 24 hour.
Audi Sport Quattro
This is a rear view of the Audi Sport Quattro.
Audi Sport Quattro in action
This video shows the Audi Sport Quattro in action and demonstrates how much more effective the LED-laser headlights will be.
1950 Studebaker
A 1950 Studebaker was rebuilt from the ground up, including a handmade, custom chassis. The paint color is black cherry. Under the hood is an LS3 Corvette 485 horsepower engine. The spoked wheels are made from spun copper. 
The Studebaker's interior is upholstered in handstitched Italian leather. It also has custom lighting and a push-button start and shifter.
The Studebaker's trunk
Opening the Studebaker's trunk reveals six audio amplifiers with a total of 800 watts of power driving eight speakers. The car took a year-and-a-half to build and has an estimated value of $250,000.
1995 Nissan Silva
This 1995 Nissan Silva has a modified Skyline engine with a turbo booster that produces 1,000 horsepower. Yeah, that's a one followed by three zeros. The car is owned by Hybrid Audio, which installed a seven-speaker system fed by a total of 2,400 watts of amplifier power. Talk about hearing loss.
Total investment: $175,000. Estimated value: $350,000.
Nissan Silva
The Nissan Silva is a two-door coupe, not a hatch back. The rear window was motorized and lifts to expose the four audio amplifiers.
1964 Volkswagen Beetle
This is a fully restored 1964 Volkswagen Beetle. The car belongs to Nickelback drummer Daniel Adair. In the rear window, two woofer speakers have been mounted in tom-tom drums. The audio system, installed by Kicker Audio, is controlled by a dashboard-mounted iPad and is powered by two amps with a total of 2,000 watts. 
2013 Shelby GT500 Cobra
Meet "Evasion," a 2013 Shelby GT500 Cobra displayed by Arc Audio. Built by Dave Rivera, this little beauty sports a 625 horsepower motor, chassis upgrades and a full interior redesign (including an in-dash iPad).
Each door also includes one 5.25-in and two 6.5-in ARC Audio speakers and two 6-in x 9-in speakers in the rear deck, all driven by a six-channel amplifier with 180 watts per channel (1,080 watts total).
Shelby GT500 Cobra engine
Oh, that 625hp engine. How it must purr.
We told you it was a dog
Meet Taio, a Samoyed who roamed the CES show this week and whose fluffy fur and easy-going personality made him popular among the crowd. 
Lucas Mearian covers consumer data storage, consumerization of IT, mobile device management, renewable energy, telematics/car tech and entertainment tech for Computerworld. Follow Lucas on Twitter at @lucasmearian or subscribe to Lucas's RSS feed . His e-mail address is lmearian@computerworld.com.
Copyright © 2014 IDG Communications, Inc.
Next Up: Check out these related slideshows