12 cool, creative and just plain weird gadget concepts
Take a gander at a dozen delightful concept designs for tomorrow's smartphones, laptops, gaming devices and more.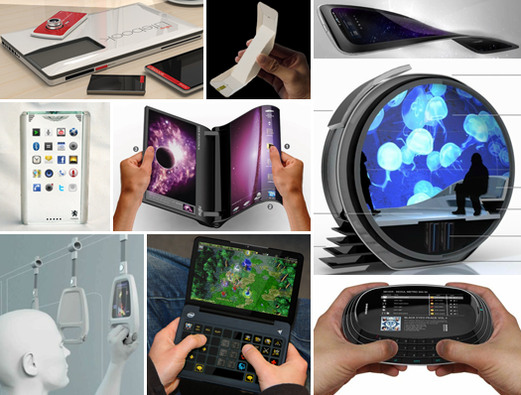 An experiment in free thinking happens every day at art schools, in the cramped workspaces of independent designers and in electronics vendors' R&D labs, where designers dream up concepts for tomorrow's mobile devices and other gadgets. How about a phone that twists into a wristwatch, or a laptop that lets you flip through files by bending the edge of the screen?
These 12 concept designs offer a sneak peek at some intriguing blue-sky ideas for future devices, not necessarily what's feasible. While most will never become shipping products, they show where computing might be heading in coming years as advanced materials and production methods arrive. If you're looking for the next big thing in electronics, it could be right here.
Flex phone: Samsung Galaxy Skin
Once you see the flexible Galaxy Skin prototype phone, rigid phones will seem so 2011. Made of a pair of pliable AMOLED displays mounted back to back, the Android device can be bent and twisted into a variety of shapes: hung from a shirt pocket like a name badge, wrapped around a wrist like a watch or folded to sit on a table for a videoconference. Because it can assume so many shapes, it makes current phone marketing categories irrelevant.
Developed by two Korean students, designer Haeyon You and engineer Haeseong Jee, for a Hongik University/Samsung talent project, the Skin is long and narrow with a 4-in. VGA screen on each side. It's only 0.3 in. thick and has a built-in microprojector for presentations.
Snap-together laptop: Fujitsu Lifebook 2013
This innovative modular system, developed by independent designer Prashant Chandra for a Fujitsu-sponsored design competition, might initially look like any other notebook computer. But a closer look reveals three smaller devices -- a tablet, a phone and a digital camera -- that can be snapped into the case or popped out and used individually as needed.
When the tablet is snapped in, it doubles as the laptop's keyboard, and its processing power is shared with the main system. Data is synced among the devices whenever they're snapped in. It seems that you can finally take it all -- or just what you need -- with you.
Floating peripherals: TransluSense ClearTouch keyboard and mouse
Made from tempered glass set atop a brushed aluminum base, the striking ClearTouch keyboard and mouse appear to float above the desktop. Aerospace engineer Jason Giddings designed the translucent peripherals with no moving parts, such as individual keys or mouse actuation buttons.
Rather than using touchscreens, the devices are based on frustrated total internal reflection technology, which sends pulses of infrared light through the glass. Each device has a tiny camera that picks up the signal when a key or button is touched and translates it into the desired action.
With venture capital and Kickstarter funding, Giddings is setting up an assembly factory to build and sell the unique peripherals. They could soon be heading to a desktop near you.
See-through phone: Mobiado CPT002
Luxury phone seller Mobiado, a licensee of sports car maker Aston Martin, has created several smartphone concepts as a way to explore new materials for high-end smartphones. Perhaps the most striking is the see-through CPT002.
Rather than molded plastics, the Android-powered device is made of ultra-strong sapphire crystal framed by platinum edging. This makes the CPT002 lightweight yet scratch-proof. The trick is that all the electronic components are squeezed into the edging, leaving a phone that looks like a chunk of ice that never melts.
Opening the book on laptops: The Real Notebook
Designer Kim Min Seok takes the current advances in flexible display technology to the limit with his Real Notebook prototype. The system is made from a pair of bendable AMOLED displays held together by a cylindrical hinge that houses the system's battery.
You can use it like a conventional laptop with a touchscreen keyboard, or pick it up and hold it like a book. Press a folder's icon on the edge of the screen to see the contents of that folder flip by just as you would flip through the pages of a book or magazine. The more you bend the edge of the flexible screen, the faster the pages fly by.
Twisted TV remote: Murata Leaf Grip Remote Controller
In the "solutions in search of a problem" category is Murata's Leaf Grip Remote Controller, a working prototype that can control real TVs. Doing away with the typical TV remote's complicated array of small buttons, the Leaf Grip uses sheets of piezoelectric polyester that create small electrical signals when pressed, squeezed or bent.
Twist it slowly to move the TV's channel up or down, or adjust the volume by bending it into a "U." Shaking the device turns the TV on or off (see video).
The Leaf Grip charges via solar cells, but the prototype seems to be missing key functions like Mute and Last Channel. And using the remote is often a two-handed operation, so you'll have to put down the beer and chips.
PC gaming in hand: Razer Switchblade
The Razer Switchblade concept is for the PC gamer on the go. This handheld computer is a working prototype, so it could actually get produced.
Able to fit into a small bag or jacket pocket, the Switchblade opens to reveal a 7-in. color touchscreen and an ingenious dynamic keyboard. Equipped with 45 transparent keys on top of a display panel, the keyboard can be configured with controls for a variety of games while retaining the tactile feedback provided by mechanical keys. When you tire of blasting aliens, you can intimidate opponents via email with a simplified QWERTY keyboard.
Powered by an Intel Atom processor and Windows 7 software, the Switchblade will work with most Windows software and games.
Text-o-matic: Cave phone
By definition, a phone is for talking, right? Well, with Kim Min Seok's Samsung Cave concept phone, you can make calls, but you'll probably let your fingers do the talking because emailing and texting is so much easier.
Rather than an on-screen or slide-out keyboard, this multitasking phone has a mechanical keyboard built into the parallel ridges that run around the oval case outside the touchscreen. The rake of the four rows of keys is a comfortable 30 degrees so you can look down at the screen while tapping out a Web address or long email.
A major drawback: At a time when phone designs are getting thinner and thinner, the Cave appears thick and clunky.
Twist to scroll, squeeze to answer: Nokia Kinetic phone
Nokia's Kinetic device is all about interactivity. Designed at the company's research lab as a technology demonstration project, this working prototype phone is based on a flexible AMOLED display that responds to physical pressure. You can twist it to scroll through a group of photos or bend it into a "U" to pause the music or video that's playing. When it rings, just squeeze it to take the call (see video).
The phone has a unique advantage in the brutal winters of Nokia's native Finland: Gloved fingers are ineffective on touchscreen phones, but twisting, bending or squeezing the Kinetic device presents no problem.
Fold-a-phone: Origami handset
Still have a landline phone at home? Bet the handset seems clunky and enormous compared to your mobile phone. Enter Chengyuan Wei's Origami handset, which starts as a flat sheet of cardboard that is bent and folded to create a 3D phone. All the electrical elements, including the microphone and speaker, are inside.
The result? Wei's phone has sharp angles and is as light and sleek as your present home phone is heavy and bulbous. It folds flat when not in use and pops open when you press on its sides to answer a call. It has a phone network connector on the end for plugging in, but also a key design flaw: There's no obvious way to dial a call.
Subway screen: Strap Game
That half-hour train ride to and from work every day doesn't have to be dead time: Jiang Qian's Strap Game can turn it into game time. Designed with subway and bus straphangers in mind, the strap's handle has a portable gaming computer inside. Grasping the handle turns the device on and brings up your choice of five built-in games -- including a version of the ever-popular Tetris.
You'll never miss your stop because as the train arrives at a station, the system displays its name and rail connections. One-handed operation makes it safer to use on public transit than handheld gaming devices, but staring at the screen on a swaying streetcar could be a recipe for motion sickness.
Beyond surround sound: The Immersive Cocoon
By far the largest, most complex and most far-out concept of the bunch is NAU's Immersive Cocoon. The spherical black prototype saturates your senses with a 360-degree view of your cyberdomain. After you punch in your entry code, the Cocoon's steps extend and the hatch slides open, beckoning you in.
The inside surface of the sphere is covered with a curved high-resolution LED display. There's a bench seat to relax on. A sophisticated 3D motion-tracking system lets you interact with the Cocoon by pointing at items, creating a thrilling experience whether you're taking an educational trip under the ocean, trying to make sense of disparate data streams for work or just watching the World Series in style.
Which concept is your favorite?
Did one of these gadgets particularly strike your fancy, or is there one that you wouldn't be caught dead carrying? Which is the silliest? Share your thoughts on the Comments tab.
Brian Nadel is a frequent contributor to Computerworld and the former editor in chief of Mobile Computing & Communications magazine.
Copyright © 2012 IDG Communications, Inc.
Next Up: Check out these related slideshows