45 years of Computerworld covers
Relive some big IT stories from yesteryear with this tour of memorable front pages from Computerworld's 45-year run.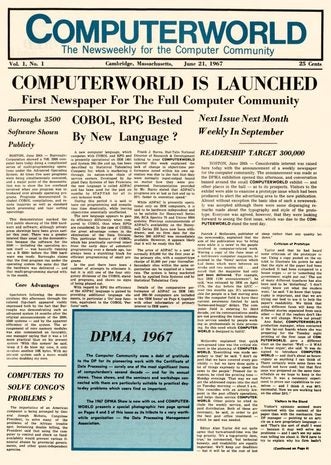 June 21, 1967
Patrick J. McGovern launches Computerworld, "the newsweekly for the computer community." Announced at the Data Processing Management Association conference that week, the newspaper's key aim is timeliness -- "to bring news while it is news" to the people of the IT community, says McGovern. A readership target is set at 300,000. 
Click "See larger image" below the image to enlarge it.  
Nov. 17, 1971
For the price of $9 per year, the growing IT professional community can receive news of the latest technologies and trends. In this week's issue, Computerworld reports on a survey showing that 55% of people are too dependent on computers and that 51% think computers have eliminated more jobs than they have created.
July 16, 1979
Computerworld continues to change its look, unveiling a slicker design. This week, the newspaper trumpets the arrival of two new CPUs jointly developed by Itel Corp. and Hitachi Ltd. of Japan. The AS/7-7033 has 4M Bytes of main memory and a 12-channel configuration and was priced at $3,240,000.
Jan. 23, 1984
The COMPUTERWORLD banner has bulked up. The lead story in this week's issue poses the question: "Unix: The operating system of the '80s?" Inside are stories on Texas Instruments' newest 32-bit processor and a 32-bit system from Sinclair Research Ltd. that is priced at $499 and can be ordered by mail.
Nov. 3, 1986
Computerworld produces its largest issue ever, its 1,000th, combining a pullout section celebrating the 40th anniversary of computing with a special Executive Report and the regular weekly news section. One of the main headlines in this week's issue, for a story filed from the Data Processing Management Association's annual conference, reads: "MIS: 'Treat end users as customers.'"
July 13, 1987
Computerworld continues to develop its distinctive banner, and bits of color can be found on the traditionally black-and-white cover. The lead stories in this particular issue focus on Borland International's bid to buy Ansa Software, and Sun Microsystems' introduction of a 10-MIPS machine, the Sun-4/200 series.
June 1992
Computerworld's 25th anniversary special edition, a supplement to the weekly newspaper, profiles 25 people who changed the world.
May 23, 1994
A Computerworld subscription will now set you back $48 per year. The main headline in this week's issue announces the end of the 28-month, multibillion-dollar legal battle between Computer Associates International and Electronic Data Systems. Also in the news: A story outlinining Microsoft's history of delivering systems late.
Aug. 11, 1997
The newsweekly's look is updated, with new typefaces and color schemes, and occasionally a COMPUTERWORLD banner in both black and white. The lead story this particular week focuses on the fallout from an ongoing UPS strike. Also, readers react to Microsoft's $150 million investment in Apple Computer.
Sept. 30, 2002
Computerworld marks its 35th anniversary with a look back on the 35 technologies that "have changed the game for corporate IT" and the changing role of the IT leader over the years. The issue also offers predictions from the top minds in IT. Plus, a classic Computerworld story makes the front page: End user Applera Corp.'s decision to replace its Compaq equipment under separate deals with IBM and EMC.
Feb. 23, 2009
Computerworld has made the leap to its current magazine format, but with its classic banner still intact. Readers get a glimpse of the stories inside with a table of contents rail on the right. In this issue, IT executives are served up a primer on how to save key projects at budget-cutting time, as well as the latest technology impacts from the economic stimulus bill and a look at the newly launched workplace review site Glassdoor.com.
May 21, 2012
The table of contents rail now gone, Computerworld's designers have more room to flex their creative muscles, as with this award-winning cover design. The featured story examines the end of the Cobol programmer era and how businesses should prepare. Also highlighted are stories on big-data vendor investments and up-and-coming job titles for IT staffers, as well as an opinion piece on the coming wave of robots.
Copyright © 2012 IDG Communications, Inc.
Next Up: Check out these related slideshows