Best Places to Work in IT 2013: A tour of Quicken Loans
Quicken Loans moves into the No. 1 spot on this year's Best Places to Work in IT list. Here's a peek at some of the quirks and perks enjoyed by employees.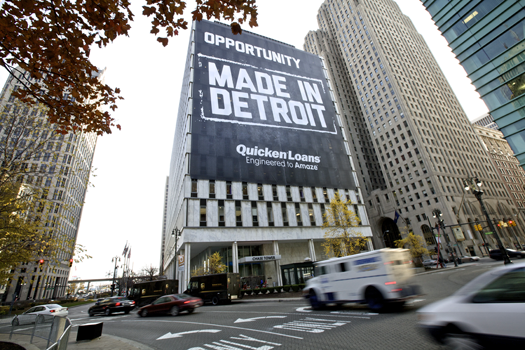 Working in the Motor City
The No. 1 organization on Computerworld's 2013 Best Places to Work in IT list is Quicken Loans. Employees at the online retail mortgage lender enjoy great benefits and career opportunities, plus a host of perks -- not least of which is the company's prime location in newly revitalized Detroit.
Quicken Loans occupies several buildings in the heart of downtown, some just steps from Comerica Park, where the Detroit Tigers play; Ford Field, home to the Detroit Lions; and Campus Maritus Park, the Rockefeller Center of Detroit.
The vibrant colors and open floor plan at Quicken Loans' offices are designed to encourage creativity. Team members can grab a scooter or a three-wheeler to get to their next meeting.
A colorful hallway in Quicken Loans' Qube building features cushiony nooks and plenty of room for "Big Wheel" traffic.
Windows and walls are fair game for doodling and brainstorming in all of Quicken Loans' offices, especially in the "Mission Control" area.
Some Quicken Loans offices boast views of the Detroit River.
Staffers relax with a quick Ping-Pong game. Quicken Loans encourages team members to take time out of their day to have fun.
Team members hold an impromptu meeting in a lobby featuring an image of Ryan Newman, driver of a Quicken Loans-sponsored NASCAR racecar.
Read more about the Best Places to Work in IT 2013.
Copyright © 2013 IDG Communications, Inc.
Next Up: Check out these related slideshows