7 mobile apps that jump-start team collaboration
From conducting video meetings to coordinating to-do lists, these collaboration apps for iOS, Android and more will have your far-flung team working in sync in no time.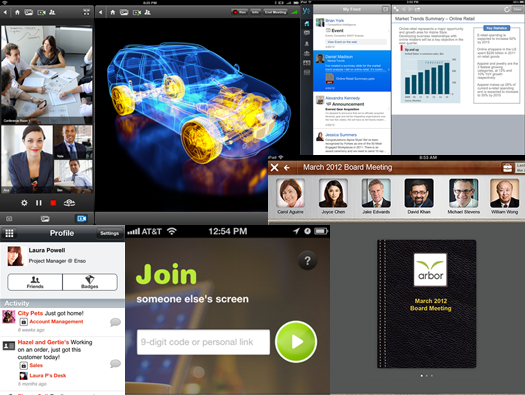 Your team is wired to their smartphones -- and they're traveling more than ever. How do you make sure tasks get done and people stay in touch? With these top-of-the-line mobile apps and the services that support them.
But first, a word of caution: While most of these tools provide enterprise-level security, you might run afoul of your company's policies, or even violate the regulations it's subject to, if you store company data with third-party services. Always seek approval through proper corporate channels before trusting private or sensitive data to a third-party app or service.
Now, on to the apps!
Yammer
Once you and your team join Yammer, a social network designed specifically for businesses (and now part of Microsoft's Office division), you'll have a secure place to post, comment and "like" a la Facebook, but restricted to those who work with and for you. Each team member can post project updates, share relevant files and comment on other team members' updates to add information, solve problems, brainstorm ideas or give support. 
Using the Yammer mobile app, team members can do all of this while away on a business trip -- or even at home during their morning commute or lunch hour.
Platforms: Android, iOS, Windows Phone, BlackBerry
Price: app is free; accounts typically range between $3 and $8/user/month
DoubleDutch Team
Forget about keeping messy joint calendars or calling team members for updates on customer interactions. DoubleDutch Team has you covered. Using a social network-like profile and update system, DoubleDutch Team gives your team a dedicated app for sharing content, updates and business intelligence.
You can view all team activity or zero in on a single customer or project in an encrypted private cloud. And you have the option to geo-tag your posts and/or tag customers in your posts, showing your team exactly where you are and who you're with for a truly collaborative sales process. (Customers won't see the updates unless you allow it.)
Team members can also earn points for posting, receive achievement badges and track their progress on a leaderboard.
Platforms: Android, iOS
Price: free
Join.me
With professionals more mobile than ever, it's often tough to get your team under the same roof at once. That's where LogMeIn's Join.me app comes to the rescue. Team members can use their iOS or Android devices to join SSL-encrypted Web meetings. The free version of Join.me supports up to 250 participants and lets you share your Mac or Windows PC screen, and send files and instant messages.
The Pro version for presenters offers even more functionality, with the ability to present from an iPad, limit screen-sharing to a single window, lock meetings, patch in people from other countries, pass control of a presentation to another team member and automatically send meeting invites.
Platforms: Android, iOS
Price: app is free; Pro accounts cost $149/user/year
Fuze Mobile
If you like to look your team in the eye when you conduct meetings, Fuze Meeting gives you the ability to do just that -- no matter where you or your team members are. The service allows you to videoconference, audio conference, share HD video and collaborate on files, and its Fuze Mobile app lets you host or attend meetings from iOS and Android devices.
Your content and meetings are stored and shared in the cloud and protected by enterprise-level encryption. While conducting meetings, you'll be able to annotate and mark up content in real time for all participants to see.
Platforms: Android, iOS
Price: plans that support mobile hosting start at $49/month for 25 attendees
Producteev
When your to-do items involve more than one person, things can become messy as you try to assign tasks to others or solicit updates. Producteev cuts through the clutter by providing powerful to-do list functionality that you can assign to and share with others. Data is stored on Producteev's SSL-encrypted servers.
You'll be able to alert your team when you assign a new task or update an existing one, as well as mark tasks with relevant tags and priority levels. All the features are regulated in a joint workspace where team members can easily catch up by tapping the Activity button to display a feed of all recent workplace tasks and updates.
Platforms: Android (beta), iOS
Price: free for 2 users; $20/month for unlimited users
BoardVantage
Things just got easier for your top executives. BoardVantage is a collaboration app built specifically for your company's upper echelon and its favorite business tool: the iPad.
With the app, execs and admins can share, collaborate on and notate board meeting materials, contracts, documents and more. You can conduct meetings via private messaging and sign relevant documents right from your iPad, making BoardVantage a must if you can't be present in person for important board meetings.
All content is securely stored in BoardVantage's "briefcase," which is encrypted, controlled centrally by an administrator and can be purged remotely in case of a security breach.
Platform: iOS (iPad only)
Price: app is free; service pricing is determined based on company needs
Springpad
Springpad, available as a mobile and Web app, helps you share information with your team by offering "smart" notebook functionality. Share a link, note, photo or other content, and the app will automatically enhance your note with more information.
Planning a team lunch? Upload restaurant ideas into Springpad and watch as it pulls reviews and menus. Considering a new office product? Scan its barcode and see product details, photos and reviews.
A caveat: While Springpad is great for informal sharing, it doesn't offer enterprise-class encryption. Use other tools for collaborating on anything that involves sensitive company data.
Platforms: Android, iOS
Price: free
Logan Kugler is a frequent Computerworld contributor. His most recent article was 10 tips for giving killer presentations with the new Prezi.
Copyright © 2013 IDG Communications, Inc.
Next Up: Check out these related slideshows