3D printing slips into fashion design
3D printed fashion not only allows designers to digitally customize creations, but lets customers choose preferences through computer-aided design (CAD) files.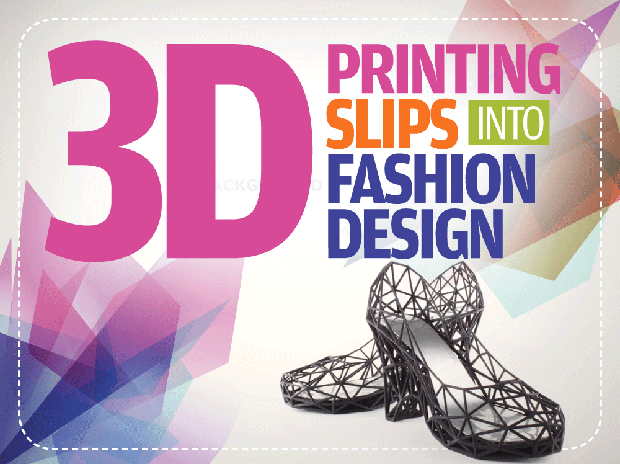 3D printing, or "additive manufacturing," technology is most widely used for manufacturing prototypes quickly and inexpensively. Over the past several years, however, it has moved into architecture and automobile design, dental and medical applications -- even human tissue. One fast-growing marketplace is 3D printed fashion, including garments, footwear, jewelry and eye wear.

For example, Victoria Secret models boasted 3D-printed angel wings, South African fashion designer Michaella Janse van Vuuren just announced a collection of multi-material 3D printed designs, and Dutch designer Iris Van Herpen released several 3D collections at Paris' famed Fashion Week.

San Francisco-based startup Continuum lets anyone design their own clothing online, and then it prints them out.
3D Printed Gown
Modeled by Dita Von Teese, this gown was created by designers-to-the-stars Michael Schmidt and Francis Bitoni. 3D printed in Nylon by service company Shapeways, the dress was assembled from 17 different pieces, dyed black, lacquered and adorned with more than 13,000 Swarovski crystals to create its flowing form.
Schmidt is currently working on an innovative new collection of jewelry, 3D printed out of gold and other precious metals.


Wilderness Embodied Collection
Iris Van Herpen was among the first designers to debut 3D-Printed Flexible Dresses. These dresses are from Herpen's Haute Courtue collection shown at at Paris Haute Couture Fashion Week. 
Herpen's designs are the result of his collaboration with Neri Oxman, Keren Oxman and MIT Professor Craig Carter, along with with 3D printer company Stratasys and architect Julia Koerner with Materialise.
The Perfect Measurement
While this dress from Herpen's collection is accentuated at the hips, it is otherwise fitted perfectly to the model's form. Because a person's digital measurements are downloaded with a CAD file to the 3D printer, a garment can be an exact and perfect fit, every time. 
Yes, those shoes are also 3D printed, something Herpen said she otherwise would not have been able to create because of the intricate detail.
On the Runway
3D printing can use digital measurements to customize a garment to a person's exact measurements.
Haute Couture Showing Precision and Detail
While this may not be your next dress, Herpen's creations show the remarkable detail that can be achieved through 3D printing technology.
Stained Glass Corset
South African fashion designer Michaella Janse van Vuuren designed this "Stained Glass" corset combining rigid, flexible, color and transparent thermoplastic materials produced on a Stratasys Objet500 Connex3 Color Multi-material 3D Printer. The process replaces handwork with computer code.
"The ability to combine rigid and flexible materials in one piece is something that is so rare, and introducing color into the process inspires us creatives to think in a whole new way," van Vuuren said.
Another Dragon Shoe Design
Van Vuuren designed Classic Serpent shoes -- 3D printed in a single build -- combining rigid and rubber-like materials with vibrant color.
Inspired by the Garden of Eden story, van Vuuren's latest collection demonstrates a world where Eve is the master of the serpent, preventing the fall of paradise and any punishment upon her descendants -- a reversal of the original tale.
The Dragon's Underbelly
The shoes are not only fashionable, but practical. Notice the scales act as treads.
"Not only does this technology replace traditional methods of fashion manufacturing, it enables one to manufacture in a completely new way," Van Vuuren said. "The ability to include different material properties and beautiful jewel-like colors in a single print run is absolutely ground-breaking. Like paint on a canvas, this 3D printer is a powerful tool for engineering and creative expression -- I cannot wait to see the objects that this technology will enable."
Fish in Coral Bracelet
Completing van Vuuren's collection are a number of experimental bracelets. According to van Vuuren, the bracelets harness two different approaches to bending rigid mechanical interlocking parts, as well as the adjustment of material properties to create jelly-like elements.
"Depicting the water features in the Garden of Eden, the Fish in Lilies bracelet explores rigid mechanical solutions to bend the bracelet around the wrist while the Fish in Coral piece experiments with different material properties to create a more rubbery part."
Most pieces in Van Vurren's 3D collection were printed in a single run, meaning they came off the printer as you see them.
Fish in Lillies Bracelet
Van Vuuren-designed Fish in Lillies bracelet exploits the multi-material and color properties of 3D printers.
How it's done
Selective laser sintering (SLS) is a 3D printing technique that is often used to create the flexible garments you see in this slideshow.
SLS uses lasers to melt successive layers of powdered polymers. Unlike fused deposition modeling, where polymers are melted and extruded from a hair-thin hole in a nozzle layer by layer on an automated platform, SLS 3D printers melt layers in a bed of powder.
As each layer is melted, an additional layer of powder from a cartridge is added atop the preceding layer. Each layer is fused to the one beneath it as it melts. As with all 3D printing, CAD software directs the robotic laser mechanism as it builds the object.
Continuum Black Shoes
3D printing clothing company Continuum calls its products "fashion for the digital age." Its "Strvct" (for structure) 3D-printed shoe collection are based on fantasy-inspired designs.

The Strvct shoes are made of 3D printed nylon that is "incredibly strong" while also lightweight. Continuum describes the shoes as a "triangulated spin on the classic wedge pump, which brings to mind Cinderella's glass slipper in its transparency."
The Continuum Shoe in Red
The shoes can be printed in a variety of colors, all at the customer's request.
Oragami Tyvek Butterfly Sandals
Another in Continuum's "Strvct" line is a sandal with a 3D printed base and origami tyvek butterflies.
All the Strvct shoes are lined with a patent leather inner sole, and coated with a synthetic rubber on the bottom to provide traction.
Continuum's N12 Bikini
The Continuum N12 bikini is created using SLS 3D printing. N12 refers to the Nylon 12 material from which the bikini is made. The N12 material is strong and flexible and bends without breaking -- even when it's printed very thinly (.7 millimeters).
"It is possible to make working springs and almost thread-like connections. For a bikini, the nylon is beautifully functional because it is waterproof and remarkably comfortable when wet," Continuum said.
The N12 Bikini on a Model
Everything on this bikini snaps together. It is made up of thousands of circular plates connected by thin strings. The circle pattern was created using custom-written code that lays out the circles according to the curvature of the surface.
Comfortable in Different Sizes
Continuum believes the N12 represents the future of what is possible for additive manufacturing in fashion.
3D Systems Pushes the Color Envelope
3D Systems, a manufacturer of 3D printers, has taken on a second product: clothing and accessories. Creative Director Janne Kyttanen worked with a designer for Amsterdam Fashion Week in February to come up with this shoe. Printed on 3D Systems' ProJet 4500 machine, it is the company's only printer that can print in full-color plastic with the whole pantone spectrum in photo-realistic colors -- just like a 2D inkjet printer.
Proof of Concept Dress Design
3D Systems created this concept dress using nylon material on a selective laser sintering (SLS) printer.
The FreshFiber Collection of Shoes
3D Systems has expanded its business from selling printers to creating clothing. Here is an example from its FreshFiber Collection, expected to debut this spring. Designers have created a collection of shoes that can be printed overnight. A customer can literally wake up to a new pair of shoes every morning.
The site also allows customers to design their own shoes using a pre-loaded CAD program that allows them to choose from multiple base models and customize them with features, such as decorations.
Geometric Accessories
From 3D System's FreshFiber Collection, a 3D printed necklace.
Accessories Abound
Accessories, like the ones here from 3D Systems, run the gammut. Companies are printing everything from purses and necklaces to rings and glasses. Each can be manipulated for custom creations.
Victoria's Secret? Lighter Weight Wings
3D printing service company Shapeways worked with designer Bradley Rothenberg and Victoria's Secret and Swarovski's design team to create this fractal snowflake garment for Supermodel Lindsay Ellingson. The lightweight Nylon was encrusted with millions of Swarovski crystals and combined with Victoria's Secret lingerie.
Ellington commented that Victoria's Secret models are accustomed to "heavy" angel wings, so having something as lightweight as nylon on her shoulders was a pleasant change.
Copyright © 2014 IDG Communications, Inc.
Next Up: Check out these related slideshows