10 takeaways from Microsoft's Build conference 2014
Microsoft started its Build developers conference Wednesday with a three-hour keynote. Here are some of the highlights.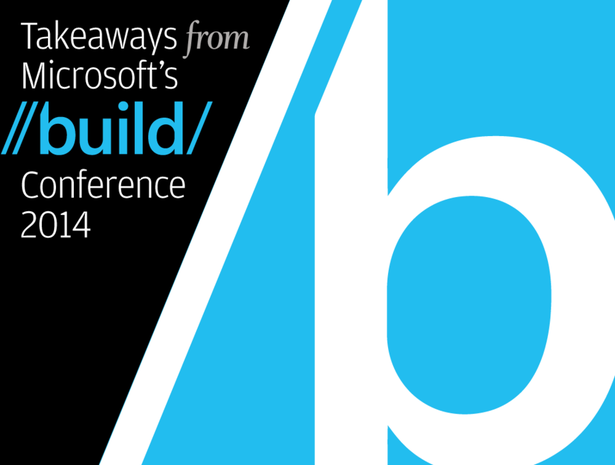 Microsoft Build 2014
At Microsoft's Build developer conference on Wednesday, the company debuted Windows Phone 8.1 for smartphones and Windows 8.1 update for PCs and tablets. The biggest changes are coming to Windows phones, but some of the changes for the PCs, tablets and hybrids will be welcomed by a lot of Windows users. Here are the important highlights from the keynote.
(Note: The images for this slideshow were taken from the live streaming of the Build conference.)
Cortana
Microsoft introduced Windows Phone 8.1, which will offer a high-density, personalized start screen. Users can now have three tiles across the device and can choose a background, instead of a solid color, for the tile backgrounds.
Microsoft also introduced Cortana at the Build conference, the company's first voice-activated digital assistant. Cortana has her own live tile on the start screen, which you can see here in the center. Cortana is still in beta, and experienced a few hiccups during the presentation.
Cortana's notebook
Microsoft wanted to make Cortana as much like a real personal assistant as possible, and to that end included a notebook in the platform. Cortana's notebook includes all the pertinent information she's learned about you through how you use your phone. Users, however, have control over the notebook, and can edit it as they choose.
Cortana also replaces the search function on Windows phones. When you activate Cortana, you can either complete your queries by voice or through typing. 
Cortana's apps
Cortana is integrated into all the expected Microsoft apps on Window's phones, but to make the platform more useful, Microsoft has also made sure that Cortana works with third-party apps. For instance, you can tell Cortana to tweet for you, and she will open Twitter and send your tweet. If you want to look at a particular person's Facebook page, ask Cortana and she will find the specific page you are looking for. 
Reminders
Something interesting that Microsoft worked into Cortana are reminders related to specific people. For instance, during his presentation, Joe Belfiore asked Cortana to remind him to ask his sister about her new puppy when he next spoke to her. Cortana noted the request and when Joe's sister conveniently called during the keynote, a notification popped up for him. The reminder would have also popped up had his sister emailed or sent him a text.
Shape writing
Microsoft debuted shape writing during the keynote, which allows user to type more quickly by swiping from letter to letter, rather than inputting each letter individually. Joe Belfiore said that even though he doesn't like to play favorites, he can't image how he lived before without shape writing.
And when he demoed it during the presentation, he only had one mispelling in the phrase "Being on stage at Build is simultaneously delightful and horrifying. Of course I love to hear from developers, but occasionally techies can be intimidating." The second word, "on" was originally intepreted as "IV."
Windows 8.1 for desktop update
Microsoft also announced an update to Windows 8.1 for desktops, primarily with the goal of making it more user friendly for people using a mouse and keyboard. The refresh will include a boot directly to desktop option by default for non-touch users. The task bar will have a pre-pinned Windows store icon, and users can pin apps they want there.
The update will be free and available April 8, though the new start menu with live tiles (pictured here) will make its debut at an undisclosed later date.
.
Windows 8.1 for desktop update
One returning feature that garnered lots of support from the audience was the ability to right click on a tile and get a contextual menu. 
Other additional features include newly downloaded apps being highlighted on the app menu and a PC settings live tile. 
New Nokia phones
Stephen Elop also took the stage to introduce three new Nokia Lumina phones. The flagship phone, pictured here, is the Lumia 930. It comes with a 20-megapixel camera, a 5-in. full HD display and wireless charging. It will retail at $599 when it becomes available this summer.
He also announced two slightly smaller, less expensive devices, the Lumia 630 and 635. They each have a 4.5-in. display, and the 630 offers either a 3G single sim variant or a 3G dual sim version. The single simwill cost $159, the dual sim, $169. The 635 comes with 4G LTE and will cost $189. These will be the first devices with Windows 8.1. They will be available starting in May in Asia and this summer in the U.S.  
The Internet of Things for Windows
Microsoft is jumping on the Internet of Things bandwagon. Though the Internet of Things for Windows is not yet available, execs demonstrated how it could work at the Build conference by using a giant Windows piano. When the IoT does come to Windows, it will be free. 
Kinect
The Build conference also spent some time going over a new Kinect version for Windows, which Microsoft thinks will change the way people control their devices in the future. One example they showed involved doctors using Kinect for touchless control during an operation. 
Copyright © 2014 IDG Communications, Inc.
Next Up: Check out these related slideshows