Archos 5: The Linux Internet tablet for everyone
I didn't expect much from the Archos 5 Internet tablet -- and I was surprised. This Android Linux powered device is more than just another would-be iPod Touch competitor; it's a powerful touch computer in its own right.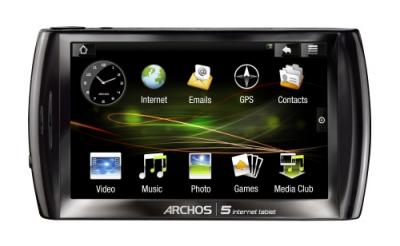 The Archos 5 is a do-it-all handheld device. While it's no iPhone, it does everything else. (Personally, as a long-time iPod Touch fan, I'm just fine with devices that don't include telephony.)
What really impressed me though the Archos 5 is its 4.8-inch 800x400-pixel display. You might not think that it being a bit bigger than the Touch's 3.5-inch display or the Microsoft Zune HD's 3.3-inch display would make that much of a difference, but it does. It's more pleasurable to watch TV episodes or, even a movie, on the Archos 5.
It can also play just about any video format you can throw at it: Flash, MPEG-4 HD, H.264 HD, WMV, MP3, WMA, WAV, AAC, Flac, and OGG Vorbis. What's nicer still is it can play 720p HD (high definition) video. With the built-in Wi-Fi, you can now watch movies from VoD (Video on Demand) services like Hulu, or listen to music from sites such as Pandora.
The Archos also comes ready for Internet work, with such Android programs as the Android Web browser, which is based on Webkit; eBuddy IM application; Twidroid for Twitter fans; and Thinksfree for viewing Microsoft Office documents. Need more? You can quickly download and install new applications from either Android Market or from the soon to be open AppsLib store for the Archos 5.
The device itself is powered by an ARM Cortex-A8 32 bit-processor that runs at 600 MHz. That's more than fast enough power to give the Archos 5 a snappy feel. For storage, hard drive options are 160GB or 500GB, or other models that use Flash memory that come in 8GB, 16GB, and 32GB sizes. The Archos 5 also come with a MicroSD card slot.
If you want to buy one, they'll be available tomorrow, September 16th, from Amazon and the Archos Web site. There is one major caveat: this second-generation Archos 5 has the same name as its predecessor and, just to look at it, you could mistake it for its immediate ancestor. If you want to buy one, make darn sure you're getting the new model. Prices range from $249.99 for the 8GB device to $439.99 for the 500GB top-end model.
The possible confusion between older and newer models aside, the Archos 5 is one nice little Internet tablet. While I'm writing about it in no small part because it runs Linux, you don't have to care a hoot about Linux to like this device. If what you want is the next step up from the iPod Touch for your on-the-go video watching pleasure, this is the device for you.
Shop Tech Products at Amazon