Register to download the Computerworld Digital Magazine!
In the June/July 2016 issue:
Special Report: Computerworld's 100 Best Places to Work in IT for 2016
Our 23rd annual report highlights top organizations across the country that offer technology pros challenging projects, robust salaries and flexible work/life options.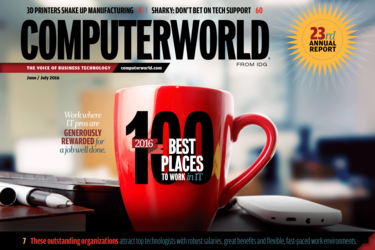 We identify which employers offer high salaries, superior benefits and unsurpassed access to training and career advancement opportunities. We also reveal what nearly 25,000 IT workers think of their benefits, training, office morale, workplace stress levels and more.
Here are the top organizations for 2016:
No. 1 Large Employer: Quicken Loans
Innovation and collaboration are priorities at Quicken Loans, allowing ambitious IT employees to sharpen their skills amid a strong sense of community and shared purpose.
No. 1 Midsize Employer: Credit Acceptance
A collaborative, high-performance culture that values employees' opinions keeps technologists engaged as they move up the ranks at this auto financing company. 
No. 1 Small Employer: Axxess
Opportunities abound for IT professionals at this rapidly growing developer of cloud-based software, where big ideas that deliver business value are rewarded on the spot.
News Analysis
3D printing makes on-demand manufacturing a reality -- even in space. NASA, UPS and SAP are all on board.
Shark Tank
Read the latest exploits of hapless bosses and clueless users.
Register to download the Computerworld Digital Magazine!