5 great websites to learn to code or upgrade your coding skills for free
Coding is no longer just for programmers and geeks -- it's a great skill for almost anyone at work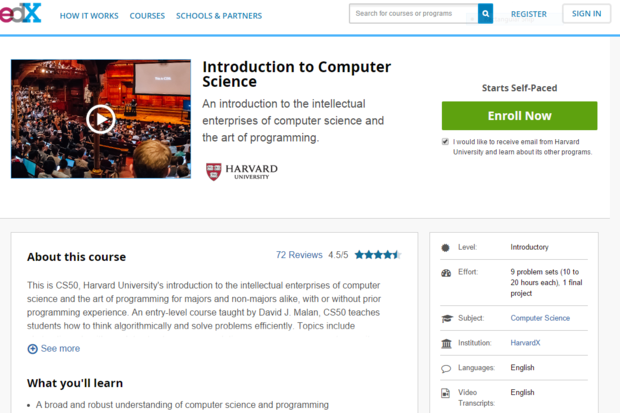 Coding is no longer just for programmers and geeks -- it's a great skill for almost anyone at work. Here are five great places online to learn coding for free, or to upgrade your skills if you already code.
This site is long on practice and short on theory, but it's a great way to learn. It's filled with interactive tutorials so that you get great practical experience. There are plenty of courses, including:
HTML & CSS
JavaScript
jQuery
PHP
Python
Ruby
MIT offers many of its courses of all kinds for free on the Web, not just programming. But its programming courses are exemplary. For a great start, take Introduction to Computer Science and Programming, which gives you a great background for coding. For the full list of computer science courses, go here.
This online academy is designed not just for existing students of many ages, but for post-graduates as well. It teaches by using games, drawings, and more. The computer programming class teaches HTML & CSS, JavaScript, and more. There are many other classes as well, including those that specialize in JavaScript and SQL.
This great site has online courses from many of the best universities in the world, including Stanford, Princeton, Brown, the University of Michigan, and others. There are many kinds of courses, including hundreds in computer science. A good starting point for newbies is Computer Science 101 from Stanford.
Like Coursera, this offers online classes from many of the best universities in the world, including Harvard, MIT, Cornell and others. It has more than 100 courses in computer science and programming, and many more in related fields. Whether you're interesting in a basic course such as Introduction to Computer Science from Harvard, or a more advanced one, like Introduction to Mobile Application Development using Android from the Hong Kong University of Science and Technology, you'll probably find something you're interested in.
This story, "5 great websites to learn to code or upgrade your coding skills for free" was originally published by ITworld.
Shop Tech Products at Amazon