This week, Microsoft published two blog posts that talk about the future of collaboration. The first, published on April 15, is called "The rise of dynamic teams." This post is a bit of a "think piece" that talks about the rationale behind Office 365 Groups. The second, published on April 16, is called "SharePoint Server 2016 update." The second article is exactly what the SharePoint crowd has been waiting for – some details about when SharePoint 2016 will be available and what the direction of that product will be. Both posts are teasers for Ignite, where the secrets of the future will be revealed in grand fashion.
Office 365 Groups
A few thoughts about "The rise of dynamic teams." According to the blog post, the business problem that an Office 365 Group is designed to address is the ability quickly form work teams with "people spanning different geographies, disciplines, [and] even different companies." I am working with an organization right now where this is a critical business need. The problem at this organization is that the users have found about 15 different ways of solving this problem – all with different degrees of security and governance and risk – and the result is that information is in a gazillion different disconnected places. Office 365 Groups are a great answer to this scenario – especially for the on-demand and dynamic part of forming and storming when it comes to teams. It also addresses the challenges allowing people to work on the devices they want in the places where they need to be. The Office Graph provides a way to surface information from Groups that you may not know about so that you should be able to benefit from prior efforts, which solves the knowledge management problem resulting from disconnected silos. What we haven't seen yet – and the part about Office 365 Groups that makes me anxious – is how the content in Groups is going to be managed and maintained, especially from a records and information management perspective. Too much unmanaged information can be just as much of a problem as information kept in separate silos so while I'm interested in the ability of Office 365 Groups to provide tools to support the way people want to be able to work, I'm pretty sure that the "G" word (governance) is going to be a huge concern with Groups and we're going to have to keep watching to see what kinds of tools will be available to ensure that the "common intelligent fabric" provides effectiveness not just for teams, but addresses the compliance concerns of the organization as a whole.
SharePoint Server 2016 roadmap
The "SharePoint Server 2016" update blog post puts some specificity around the timing of the next on premises version of SharePoint. SharePoint Server 2016 will be generally available in Q2 2016 with a public beta planned for Q4 2015. This is exactly what IT shops have been waiting to hear – so that they can begin planning and preparing. Microsoft is reiterating that they are committed to an on premise version of SharePoint and they are featuring enhancements to capabilities in three key areas:
Improved user experiences
Cloud-inspired infrastructure – making it easier to leverage the cloud
Compliance and reporting
The details behind these focus areas are promised for Ignite and they are teased in the image below.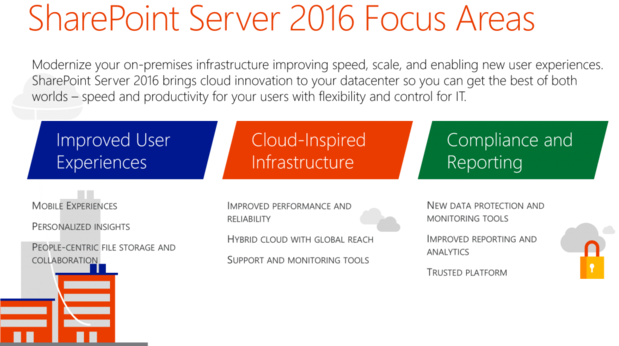 What does this mean? Choose your own adventure!
There is a general theme that underlies both of these blog posts and the messaging around the future of SharePoint and collaboration: choose your own adventure based on what you need to accomplish. Office 365 offers users and Microsoft a way to accelerate innovation and provide a variety of services that can be combined to address specific business use cases, like the dynamic and fluid team scenario for Office 365 Groups. SharePoint 2016 Server combines a core set of services to address collaboration and content management scenarios on premises and, if desired, in hybrid scenarios. Notice that both capabilities are about combing a collection of core services to solve a specific problem or set of problems. The Microsoft NextGen Portals provide that same capability – combining specific services (sometimes elements of SharePoint and sometimes not) to support a specific business use case. This is the ultimate "choose your own adventure" and will likely delight some and overwhelm many others. Business systems analysts and designers will need to re-double their focus on understanding business problems in order to address business needs in a coordinated, secure, and manageable way. Business users will look to business analysts and IT Pros to help figure out how to package the various experiences and services to create meaningful solutions. I think business analysts and decision makers will need really good "what to use when" guidance, which is actually not unlike what is necessary to create successful solutions with SharePoint today.
In addition to the Ignite sessions recommended in the SharePoint 2016 blog post, I'm looking forward to a session by my friends Kanwal Khipple and Richard Harbridge that should provide some answers to the questions I hear quite often from my clients and from people I meet at conferences: How to Decide When to Use SharePoint and Yammer and Office 365 Groups and Outlook and Skype. The way we work and the future of collaboration is evolving – and we are headed towards the ability to choose the right adventure for our organizations in a seamless and coordinated way with services that connect to each other and our devices so that we can work more productively and effectively.