It's a busy week for Android news -- or at least, that's what you'd think based on all the tweets and news stories pouring out of the annual Consumer Electronics Show (CES) in Vegas. 
When you look closely, though, you realize it's a lot of shouting without much substance.
Sure, there are some new processors that might end up in phones, tablets, or even cars later this year. And sure, there's a new Asus phone you probably won't buy, some new Lenovo phones that'll never launch in the U.S., and a new version of LG's G Flex phone that looks to be considerably better than the last. There are plenty of random gizmos and gadgets, too, some of which are pretty novel (and a few of which we might actually see in stores one day).
But in terms of big Android news -- the type of news that'll have a significant lasting impact beyond a buzz-worthy headline or a random device review in the distant future -- there's really only one story that stands out from CES so far:
Google is finally making its move to bring Android into your living room.
You might have missed it if you blinked twice over the past 48 hours, but the Big G belted out the announcement -- two of 'em, actually -- into the hazy Vegas air this week. First is the launch of a new wireless casting protocol called Google Cast for Audio. It's basically like Chromecast for sound: You simply tap a button in any compatible app on your tablet or phone, and you can send the app's audio wirelessly to a compatible speaker or receiver. Just like with Chromecast, the content comes directly from the cloud; your device is merely a middleman that starts and stops the playback.
What's most noteworthy is the fact that several manufacturers are already gearing up to release speakers with Google Cast compatibility built right in. This isn't about a new product, you guys; it's about a new platform. Or to be more accurate, a new extension of an existing platform.
And it's not alone: Google also just announced that Sony, Sharp, and Philips will ship televisions powered by Android TV within the next few months. Standalone set-top boxes are expected to follow soon after. We first heard about Android TV at Google's I/O developers' conference last summer, but at that point, it was more of a concept than a reality. With TVs and even a standalone gaming console now on the way, things are suddenly looking a lot less abstract.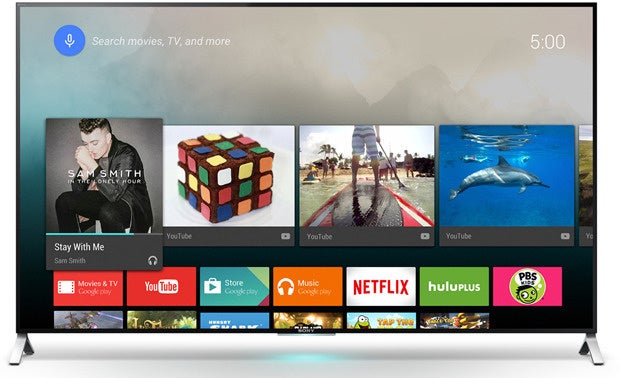 Google's had its fair share of false starts in the living room before (Nexus Q, anyone? Google TV?), but with the combination of its expanding Cast platform and Android TV -- and the slew of well-known hardware-makers now getting on board with both efforts -- this is the company's most ambitious push yet. Make no mistake about it: This is the start of something big -- and whether it ultimately flops or flourishes, it represents a brand new chapter for Android and the ecosystem that surrounds it.
Happy New Year, gang. Get ready for some interesting twists and turns in the months ahead.
[The million-dollar question about Android TV]