Leveraging data to drive customer insights is nothing new, but the massive growth of customers in emerging markets, like India, dramatically alters the game. Learning more about how to use data to drive customer interactions in emerging markets, especially in the digital world, has become a key competitive advantage that organizations are just starting to explore.
In 1991, economic liberalism in India ushered in a new era of free markets, a reduction of tariffs, and an increased rate of multinational investment. At the same time, IT services companies, like Wipro, TCS, and Infosys, emerged as leaders in the global offshoring revolution, leveraging a young, English speaking Indian population to provide US and European companies with customer support services.
However, India's reputation lost some of its luster as its inflation flirted with the double digits and GDP growth became much more volatile (see Figure 1). It became clear that India would need to bank on more than just favorable economic policies and IT sourcing to grow its economy.
            Figure 1: India Gross Domestic Product (%) and Inflation (%) (2004-2013)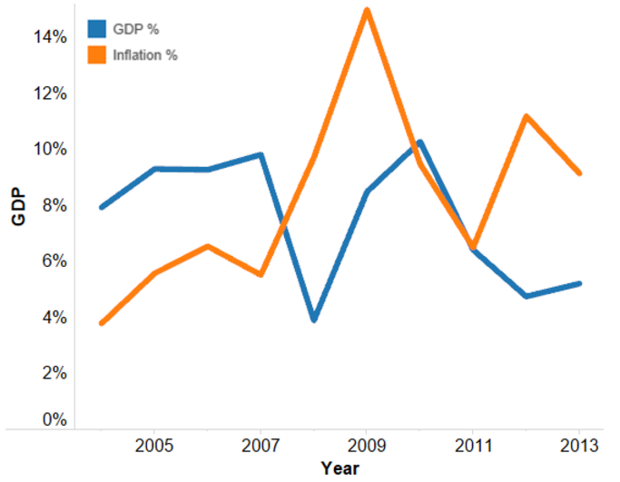 Recently, though, India has re-emerged on the global economic radar, as its middle class has expanded in size and in wealth. Indian customers are becoming savvier and more connected than they have ever been before. According to the Cisco VNI Forecast, the number of internet users in India will increase 147% from 2013 to 2018. Moreover, 86% of Indian web users log onto a social media site during their internet sessions, showing the power of social media to connect Indian customers together.
The ability of the Indian consumer to use technology is also evident in the growth of the e-commerce industry in India. According to Technopak (PDF) the e-commerce market is expected to grow to a staggering $76 billion in 2021.
The rapid rise of FlipKart, India's premier e-commerce platform, is evidence of this popularly. Given the growth and demand for e-commerce services, the industry is sure to have a number of players, from niche services to full scale FlipKart-like competitors.
For e-commerce organizations to stand out in a soon-to-be crowded market, they must use data to drive their marketing, operations, and supply chain strategy. However, this task is much more difficult in India than it is in other markets, given the diversity of languages and culture, low penetration of credit cards in the consumer market, and general bureaucratic struggles. Therefore, e-commerce retailers must use specific analytical techniques to understand the dynamic Indian market and capitalize on growing revenue streams.
Digital Segmentation: Segmentation is a fairly staid data mining exercise as even the most elementary organizations segment their customers using a few variables. However, the challenge with segmenting the Indian market is two fold.
First, the Indian market is so diverse. A k-means clustering analysis of the American e-commerce market may result in 5-7 key segments while a similar exercise for an Indian customer may result in hundreds of segments, fragmented by language, traditions, income, mobile penetration level, etc.
Second, the Indian market is changing at a rapid pace and customer segments that are developed based on today's data may be obsolete. For example, the Indian middle class, a key customer segment, contained only 25 million people in 1996, but the number is expected swell to 267 million people in 2015.
As a result, e-commerce retailers must use targeted microsegments to successfully attract a growing population. Additionally, e-commerce retailers should ensure that their models are built so that they can adjust for the constant fluctuations in the Indian demographic.
Supplier Analytics: Using data to drive customer interactions is fairly common across the enterprise, but less common is the use of analytics to score, rank, and segment suppliers. An e-commerce system creates a complicated supply chain that involves multiple players who must work in tandem to deliver high quality products on time.  Any disruption to this supply chain can result in the failure of the e-tailer.
This risk is especially acute in India, where the quality of transportation networks are inconsistent and record keeping can be a nightmare. Therefore, e-commerce retailers must use scoring algorithms to rank suppliers (similar to a customer lifetime value calculation) to ensure that they are consistently using the best suppliers.
Leveraging Enriched Data: Creating a complete customer or supplier picture requires more than just internal customer or transactional data. Data augmented from demographic, psychographic, geographic sources help organizations understand their complete customer and supplier makeup. For instance, an enriched Indian customer file might have information about mobile usage, state or city of origin, purchase propensity, and leisure preferences.
The Open Government Data (OGD) platform does not provide granular, customer-level data, but it does provide free financial, transportation, and educational data that is frequently updated. In addition, organizations can leverage free APIs via a desktop analytics tool, like Alteryx or KNIME, to extract and blend enriched consumer-related data.
Traditional retailers have often struggled to grow in India, hampered by regulations and a failure to adapt to a rapidly changing Indian population. E-commerce retailers can avoid the struggles of their brick and mortar forefathers by dynamically segmenting their customers, scoring and ranking their suppliers, and enriching their data to create a complete analytic picture. After all, an $80 billion market depends on it.
This article is published as part of the IDG Contributor Network. Want to Join?