Apple executives have been promising an amazing year of Apple product introductions since last year, but some products on that schedule may slip -- Apple seldom ships a product until it is ready. Despite the appearance of delay, big news is coming and here's the best of what we've heard in the last week.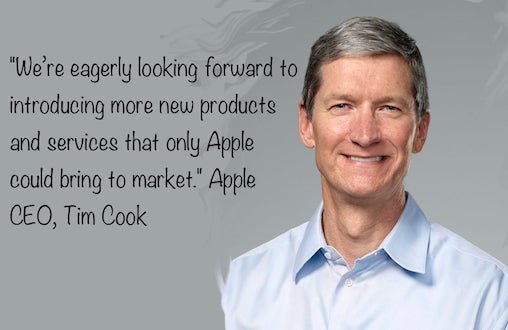 Do it all iWatch
Expectation that the iWatch will be a dumb accessory seems unlikely on strength of claims the device will include 512MB or RAM and 8GB of internal storage. Why would the device carry all that storage and memory if it lacked a processor to make use of it? Battery life improvements are clearly critical, so perhaps this is why production is said to have slipped into 2015.
Apple TV
The Apple TV is sold out across Apple's US retail stores, as consumers rush to purchase its stock in hand on strength of a $25 iTunes voucher offer. Is this business as usual, or is Apple preparing to introduce new models of the device? Macworld UK speculates new models may even appear "next week".
iPhone 6 gets protruding lens
This claim from the last rumor round-up has reappeared in the last few days, with 9to5 Mac claiming the lens will protrude by 0.77mm. The report appears a little uncertain, but it remains possible a protruding lens may also make it easier to attach lens accessories to the smartphone.
128GB iPhone
Another claim favors the introduction of a 128GB model iPhone 6 -- perfect for photo and video.
iPad Air
Taiwan's TechNews says Apple will pump 2GB of RAM inside the iPad Air 2 while the iPad mini 3 will have 1GB RAM. These tablets are becoming more powerful -- the first-generation iPad mini carried just 512MB.
Retina Display MacBook Air
Apple seems likely to introduce new MacBook Air versions equipped with a Retina Display "in time for the holidays", but this schedule has slipped because Intel is having problems delivering new 14-nanometer Broadwell processors for these Macs. These aren't now expected to reach market until 2015.
Retina Display -- upgraded
Apple is clearly on a drive to support HD Ultra across its devices, enabling consumption of the highest possible quality video. Perhaps that's why there are claims the Retina Display resolution on next-gen iPhones will improve?
iPhone 6 brings 4.5G
Another recent report claims the next-generation iPhone will use a Qualcomm modem capable of supporting much faster future iterations of LTE, LTE-Advanced. This high-speed LTE is capable of 150-Mbps and is only now being deployed by carriers worldwide as 4.5G. Supporting the standard makes sense for Apple -- ABI Research believes 45 carriers will have launched LTE Advanced by Q4, including AT&T, Sprint, Telstra, KDDI, Singtel, Orange France, and EE. More carriers are expected to enable 4.5G in the next year.
Sapphire iPhone?
The Wall Street Journal casts an ice bucket on claims Apple will use a Sapphire display on future iPhones, saying these will be available only on high-end devices.
Two iPhone 6 versions
"Thailand's National Broadcasting and Telecommunications Commission has approved two new Apple handsets — said to be variants of the so-called "iPhone 6" — for sale in the country," reports AppleInsider -- a clear signal to expect at least two versions on September 9.
Investing in innovation
Apple's research and development (R&D) spending rose 36 percent year-on-year to hit $1.6 billion in Q3. "Coming four years after Apple last entered a new product category with the iPad, the spike in R&D spending suggests Apple has much more in store than a new version of one of its signature devices," say analysts at Morgan Stanley.
Also read:
Google+? If you use social media and happen to be a Google+ user, why not join AppleHolic's Kool Aid Corner community and join the conversation as we pursue the spirit of the New Model Apple?
Got a story? Drop me a line via Twitter or in comments below and let me know. I'd like it if you chose to follow me on Twitter so I can let you know when fresh items are published here first on Computerworld.