The BBC today announced its runners for the mobile Olympic 2012 team, fielding an Apple [AAPL] iOS and an Android app, hampering the latter with one last flight for Adobe Flash, and ditching app support for Microsoft [MSFT] Windows phones from the team, reflecting that platform's terminal irrelevance to the mobile market.
[ABOVE: Will London 2012 match the panache of China's defining Olympics opening ceremony?]
Fin de siècle...
In the US, Flash also makes a last dash for relevance in mobile coverage. This means this season's big sporting fixture will be a final test for Flash on mobile devices, as well as representing Microsoft's new status as the ageing athlete who couldn't make the team, at least when it came to mobile devices.
A little context: It's been raining in the UK. To be specific, it has been raining since April as people here bask in the luxury of the wettest summer since records began: so wet it has been in fact that the final hosepipe bans were ended by the UK's inefficient private water utilities this week.
This wet weather, painful economic decline and growing anger at some of the more insane tax break demands of Olympic corporate sponsors during the season mean you can expect many Brits will choose to watch the action from home, if they watch it at all.
This will not be a repeat of the positive vibration that emerged from the last showcase Olympiad in China. In an attempt to deliver at least some site security UK.gov had to call the army in, meaning the London event will bepart militarised. It is what it is, I guess, a fin de siècle for this faded Empire.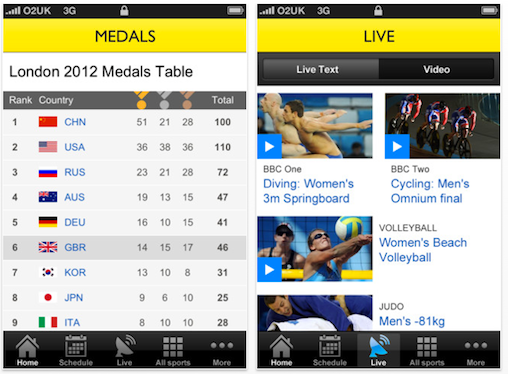 [ABOVE: A pair of screen grabs from the iPhone version of the BBC Olympics mobile coverage on an iOS app.]
Last dash for Flash
It's a fin de siècle for Adobe [ADBE], too. While in many cases in both the US and the UK you will have to use mobile Flash to watch the event transmissions on your Android phone, you won't be encumbered by the system-tapping anachronism when witnessing the action on iOS.
The BBC will present up to 24 simultaneous live streams of coverage of Olympic sporting action to Google [GOOG] Android and iOS 5.0 users in the UK, offering up dedicated apps for both platforms. The Android app is for handsets with OS 2.2 and above.
Android users must have Flash installed to watch the video, while iOS people don't need to use Flash format at all. There's a shortcut to the main site for BlackBerry devices, and, presumably, Windows phone users will be able to watch the action using a browser, though they won't get all the features of a mobile app.
In the US, NBC and Adobe this week announced their partnership, which sees a similar amount of Olympic coverage delivered to US Olympic fans. You'll note the inclusion of Adobe Flash in this form of coverage, too. There's an NBC promotional video on the channel's Olympic plans below and you can get the iOS version of the app here.
Winners and losers
Given the short duration of some Olympic events it will be interesting to see if Flash on mobile will perform as well as the athletes, or if the 100-meter dash will lag, jump and stutter when watched on those mobile platforms forced to use Flash to watch it.
Optimists may hope the 2012 Olympics will be the moment when Adobe proves its Flash critics wrong, though this seems unlikely given the company's decision to cease development. It would be nice to see the EOL mobile video format go out with pride. It cost Adobe $3.4 billion, after all.
Life looks less great for Microsoft and its mobile ambitions.
Despite the promise of Windows 8 across all devices the company is definitely starting from the back of the field -- shameful in itself given its status as dominant desktop OS. It hasn't handled the post-PC (or PC plus) transition at all well so far. That the BBC and NBC seem to have skipped support for existing Microsoft mobile formats reinforces the point.
Microsoft is way behind in this race and has lost its place on the Olympic 2012 mobile technology team as a result.
Sure, Microsoft CEO Steve Ballmer this week promised to fight Apple on all fronts, but given that's precisely what the company's been doing since the birth of personal computing you need to take that promise with all the salt you might ingest when examining a Digitimes report.
The video below sums up where Microsoft is right now in the mobile race: "It's just a flesh wound," the company might say, but it appears Redmond's Black Knight has lost its legs. Never say never of course, but right now it looks like the company has an uphill struggle regaining relevance in the mobile age.
2012: The post-PC Olympics
So there you have it, the technology industry's big winners for Olympics 2012 are Apple and Google, with Adobe playing its Flash swan song and Microsoft becoming a well-known former international class athlete now and perhaps forever dismissed from the main team. In truth it's out with the old and in with the new.
The post-PC Olympics of the mobile era has begun. Which platform will take home the most medals in 2012?
What do you think?
Got a story? Drop me a line via Twitter or in comments below and let me know. I'd like it if you chose to follow me on Twitter so I can let you know when these items are published here first on Computerworld.