Wake up! Apple [AAPL] has put its iPhone 5 (equipped with a 19-pin new Dock connector) into production and the new smartphone seems set to break its own sales records once again when it hits the shops in Fall, the latest survey results explain.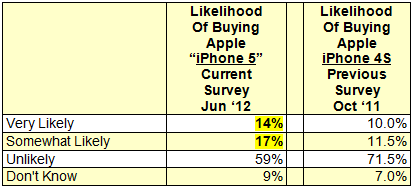 iRider on the storm
Perhaps it is no surprise that the world's biggest-selling smartphone will remain the world's biggest-selling smartphone, despite five years of increasingly vicious competition in the rapidly-expanding space.
Interest in smartphones among consumers is at an all time high, the latest ChangeWave Research claims claim. And Apple's iPhone 5 will be at the top of the tree in market share terms, while sitting under many trees this coming Christmas season as Apple wrests the "Market Leader For The Quarter" award from the only other real beneficiary of the smartphone surges, Samsung.
"Advance demand for the 'iPhone 5' is strikingly higher than we've seen for any previous iPhone model," said Dr. Paul Carton, 451 / ChangeWave's VP of Research. "Overall smartphone sales should spike to an all-time high this fall, and of course Apple is going to be the number one beneficiary. But besides Apple, and to a lesser degree Samsung, no other manufacturer is likely to benefit from this coming wave of demand."
More good news for Apple: 14 percent of consumers say they are Very Likely to purchase an iPhone 5 while a further 17 percent say they are Somewhat Likely, the survey said, concluding: "Advance demand for the next-generation iPhone is strikingly higher than for any previous iPhone model."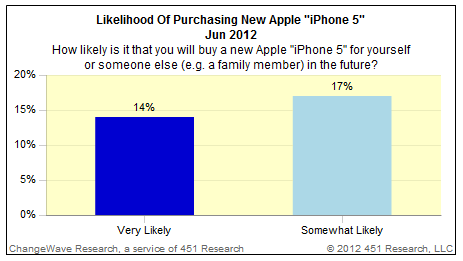 Get yourself connected
In a separate report this morning, Reuters joined all major media outlets to let us know that: "The iPhone 5, Apple's next generation iPhone expected to go on sale around October, will come with a 19-pin connector port at the bottom instead of the proprietary 30-pin port "to make room for the earphone moving to the bottom", two sources familiar with the matter told Reuters." This is in line with existing expectation.
The ever-talkative assimilated Android army will be pleased at one side of this news: Samsung's doing well, too, albeit at the expense of every other manufacturer. Samsung has seen a four-fold increase in consumer intent to buy its phones across the last three quarters, the survey suggests. A total of 2 percent of respondents say they're Very Likely to buy a Samsung Galaxy S III and 7 percent Somewhat Likely.
Everyone else is shedding blood as the smartphone sector continues to endure the future process of mergers and acquisitions. Not every player is going to survive the bloodbath that is the smartphone war. Consumer demand is down, down, down, for anything except an iPhone or Galaxy device:
Future sailors
What's important to note is that all the activity in the smartphone sector comes as consumer expectations and spending patterns are declining in face of an extended period of challenging economic uncertainty.
It is also interesting to reflect on the symbiotic relationship between Samsung and Apple. Apple still contributes a huge chunk of cash to Samsung; while Samsung continues to benefit from the free publicity accorded to it by the continued litigation between the two firms, even while an Australian judge today condemned their spat as "ridiculous".
Google meanwhile continues to suggest its contempt for other people's innovation by claiming Apple's iPhone has set such a high bar for the smartphone sector that it should be considered a "standard". A specious and sophistic argument that is worthy of the Greek philosophers.
The irony is that the conversation is already moving forward.
The future of computing will be to a greater or lesser extent cloud-based and more or less device agnostic.
Implementations such as Siri promise a tech future in which the machine will be smarter than the human. The cloud is critical to the future of the Internet. The device is less so.
What this means is that as competitors struggle to battle for the smartphone segment, tech industry leaders will already be looking for the next great prize. 
Also read:
Got a story? Drop me a line via Twitter or in comments below and let me know. I'd like it if you chose to follow me on Twitter so I can let you knowwhen these items are published here first on Computerworld.