As we wait for September's iPhone 5 comes news the Windows age is over, or could be, as the latest Canalys data points out that with the inclusion of iPad sales, Apple [AAPL] is now the world's biggest PC vendor and Windows 8 appears unlikely to turn Microsoft [MSFT] around.
[ABOVE: This video talks about the works of artist K V Sridhar aka Pops who recently showcased his collection of 28 paintings created on an iPad.]
Good news, bad news
Led by tablet (iPad) sales, the PC industry is on a growth trajectory. Cut tablets out, and, well, it isn't.
Tom Evans, Canalys Research Analyst says: "The PC industry is performing well and 2012 is shaping up to be a record year. Vendors with innovative products will reap the rewards."
Security researchers have made good business for years warning us that the existence of the monolithic Windows control of the PC has turned that platform into the 'Go To' target for malware writers of every stripe. After all, if Mac OS hasn't been a traditional target on account of its relatively small market size, then the inference that Windows is a target because of its marketshare isn't challenging to extrapolate.
Many will question the inclusion of iPads within Canalys figures. Heed the results of a recent survey that points out that tablets (iPads) are beginning to replace notebooks, while notebooks are beginning to be used in the same way as desktop computers traditionally have been.
The inference here isn't so hard to extrapolate: as tablets (iPads) become more advanced in terms of hardware and software, they are increasingly being used for many of the tasks business-focused road warriors once relied on their notebooks for. Sure, they may not be a full-blown PC replacement -- yet -- but they are increasingly being used to replace PCs all the same. The solutions will only improve.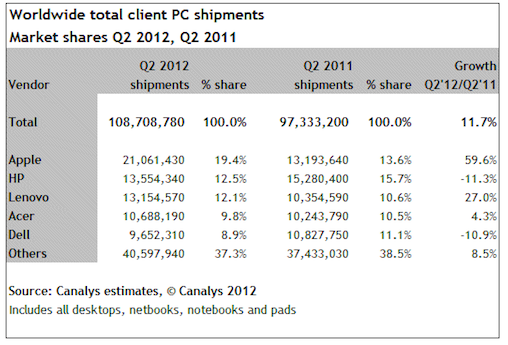 [ABOVE: Canalys market share figures. Apple's up 59.6 percent.]
Is Windows shattered?
The effect on Windows sales has been highly damaging. Canalys tells us PC sales climbed 12 percent, but this climb is almost entirely driven by tablet (iPad) sales.
"The new iPad had the biggest single impact on growth rates in the quarter, but Asus and Samsung made progress with their Transformer and Galaxy Tab product lines. Total pad shipments increased 75 percent to 24 million units, representing 22 percent of all PCs."
Apple's place in the transformation of the industry is unmistakeable, the analysts claim. Apple retook the overall lead (from HP) with an estimated 19 percent share of global PC shipments, helped by strong iPad sales:
"There is now a large base of replacement buyers that simply must have the latest Apple product, and the decision to continue shipping the iPad 2 at lower price points has opened up new customers, for example in education," said the Canalys analyst.
As the intensity of the Apple v Samsung case the latter seems to innovative in its approach toward in the US proves, Samsung is Apple's biggest competitor in the iPad (tablet) space. Canalys notes that firm doubled its Galaxy Tab sales.
Returning to Microsoft, the analysts don't believe its Surface products will help it regain relevance: too expensive and available only by direct sale, Canalys warn these devices are Microsoft's new Zune, another me too product which failed to win hearts and minds.
On Windows 8:
"The Windows 8 launch budget guarantees attention during Q4, but users will only benefit fully from the new OS if they buy PCs with touch screens, which will significantly increase the purchase price.
"Canalys does not expect the launch of Windows 8 to arrest Microsoft's market share decline until Q3 2013 at the earliest."
What can the company do?
The analyst believe it must pump cash into its OEM partners, lower licensing fees, subsidizing touchscreen devices and begin repairing its relationship with PC vendors upset at the firm's decision to go it alone with its own tablets. That decision has been a huge departure from its traditional approach with its OS.
All the same, as the focus of computing moves from the traditional PC to the server-based solutions plus a tablet model, new leaders are emerging in the OS space. In this case, we're looking at iOS and Android. And, of course, both platforms are now the focus for new waves of malware attacks.
No surprise then that mobile malware attacks are rising fast, infecting nearly 13 million phones worldwide in the first half of 2012.
Beijing-based security vendor NetQin also found: "5,582 malware programs designed for Android during the month [June]."
78 percent of the malware detected by the firm was aimed at Android devices, with "much of the remainder" targeting Symbian devices. That's clear evidence that the security implementations used by Apple's biggest mobile OS competitor needs to improve. (Though Microsoft's decline is also making Apple's systems a more attractive target, too).
Summing up: Microsoft's Windows hegemony is crumbling with Apple the current main beneficiary in the mobile device space. Android's dominance in smartphones is exposing some to security threats, and could also threaten tablet users should enterprise shops ever move to that platform in their devices. Though enterprise tablets are currently defined as iPads.
Do you believe Microsoft's days of Windows dominance are over? How do you see the future shaping up? Let us know in comments below.
Got a story? Drop me a line via Twitter or in comments below and let me know. I'd like it if you chose to follow me on Twitter so I can let you know when these items are published here first on Computerworld.