With more than 25 million iPads sold during the device's first 15 months (according to this year's WWDC keynote address), there's no doubt that Apple has been the early winner in the tablet wars. However, while the iPad (and Android tablets) may be popular among individual buyers, for companies that have standardized on Windows, they could be a problem.
"Businesses have a lot invested in Windows software," says Jeff Orr, mobile devices group director at ABI Research. "The cost of starting from scratch to build new programs for the iPad or Android tablets can be exorbitant."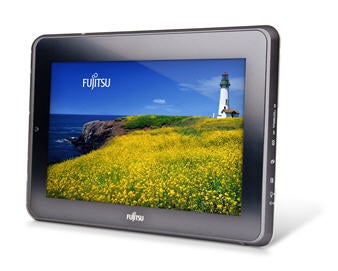 A tale of two displays
Regardless of whether I was using a finger or the pen, both displays reacted quickly and accurately to touch; they also worked well with multifinger gestures, like zooming in on an image or rotating it. Both tablets use N-trig's DuoSense digitizer and stylus -- in fact, the pens were interchangeable. For typing, Motion sticks with Microsoft's standard on-screen keypad, while Fujitsu augments it with Nuance's XT9 predictive entry software keypad.
Although both screens measure 10.1 in., they are different. With a resolution of 1280 x 800, the Fujitsu Q550's screen is shorter and wider (8.6 x 5.3 in.) than the Motion CL900's (8.9 x 4.9 in.) display, which has a resolution of 1366 x 768.
How we tested
To see how these business tablets compare with each other, I used them every day for several weeks in my office and on the road for work. I browsed the Web, read and wrote emails, gave presentations, updated a website and watched online videos.
After measuring, weighing and examining every major aspect of each tablet, I connected to my office LAN, a public Wi-Fi network and a mobile hotspot. Next, I used each tablet's screen with both a finger (or two) and the included stylus. I typed with its on-screen keyboard, manipulated icons, drew figures and used its multi-touch gestures. This was followed by use with the system's docking station, and tests with a wired external keyboard and then a Bluetooth wireless one.