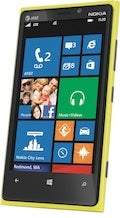 AT&T today announced prices for the three Windows Phone 8 smartphones it will sell in the coming holiday season, including a $99.99 price tag for the Nokia Lumia 920 that it will offer exclusively with a two-year contract.
In addition, AT&T will sell the Lumia 820 for $49.99, with in-store sales for it and the 920 beginning on Friday, with online orders possibly starting tomorrow. AT&T will also offer the Windows Phone 8x by HTC for $199.99, available by Thanksgiving. All three phones require a two-year contract.
In addition to the Lumia 920 exclusive, AT&T will be the exclusive provider of a limelight yellow 8GB version of the Windows Phone 8x for just $99.99.
The Lumia 920 has a 4.5-in. display and a 2000 mAh battery, as well as built-in wireless charging. For a limited time, a wireless charging plate will be available for free, Nokia said. The Lumia 920, available in yellow, red, grey, white and black, features an 8.7-megapixel rear camera with PureView technology for image stabilization.
The Lumia 820's display is slightly smaller, 4.3 inches., and its rear camera is 8 megapixels.
The HTC smartphone, with a 4.3-in. display, also has an 8 megapixel rear camera along with built-in Beats Audio technology, making it the first Windows Phone 8 to include the enhanced audio from Beats.
Matt Hamblen covers mobile and wireless, smartphones and other handhelds, and wireless networking for Computerworld. Follow Matt on Twitter at  @matthamblen or subscribe to Matt's RSS feed. His email address is mhamblen@computerworld.com.
See more by Matt Hamblen on Computerworld.com.