In June 1967, when Patrick J. McGovern published the first issue of Computerworld, the new publication did something different -- it reported on the computing industry from a user perspective.
Computerworld's headlines about disk drive failures, lost data and troubled products upset IT vendors.
"They said, 'You are the enemy of our industry,'" McGovern recalled in an August 2000 interview. "We put out the publication, almost without any ads at all for the first six months."
McGovern, who died Wednesday, was an editor, publisher and entrepreneur who founded International Data Group, a global publishing and market research organization.
He also gave back -- a gift of $350 million from McGovern and his wife Lore in 2000 launched the MIT McGovern Institute for Brain Research.
He was an MIT grad with a prodigious memory that helped endear him to his employees. Even as IDG's head count grew into the thousands, McGovern remembered the names of individual employees and knew details about their work; he even remembered the names of the spouses and children of those he knew particularly well.
"He had a memory that was absolutely remarkable," said Gary Beach, publisher emeritus of CIO magazine, an IDG publication.
McGovern's work in publishing and market research came at a particularly interesting time.
The 1960s was the era of Cobol, the IBM System/360, and other mainframe and midrange systems from vendors now long gone. Bill Gates was in secondary school.
The first meeting of the Homebrew Computer Club, where Steve Wozniak got some of ideas that would help make Apple a success, would not happen until 1975.
McGovern formed his business ideas in an era when IT was called data processing. The role of computing in business was accelerating, but the number of IT professionals was small, in the range of 300,000.
"The data processing manager was sort of the punch card guy and wasn't thought much of," said Drake Lundell, editor of Computerworld from 1968 until the early 1980s.
McGovern's work in IT publishing began while he was a student at MIT, when he got a part-time editorial job at an early computer magazine called Computers and Automation. He started working there full time after graduating in 1959.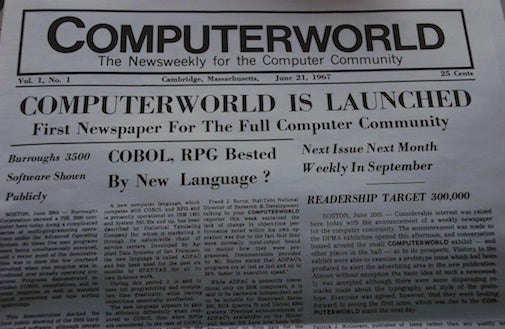 Working at Computers and Automation gave McGovern access to vendors and thought leaders, which he relished.
At one meeting with the head of Univac, the No. 2 computer company at the time, McGovern told the company that it was investing millions of dollars in new technology development with "no knowledge about what the needs of the market were."
Univac's officials concurred, saying he was "100% correct" with that assessment.
There was a clear need for market data at the time, and McGovern created International Data Corp. to gather it. Vendor demand for IDC's market research was almost instantaneous.
A few years after creating IDC, McGovern started publishing Computerworld.
In addition to focusing on users, McGovern realized he also needed to make speed a priority so he could meet user demand for timely information about technology. Most computing publications at the time were monthly. Computerworld would be a weekly.