Hands on with iOS 7.1: A few good improvements
Apple's latest upgrade to its mobile operating system adds some useful touches and fixes some glitches.
Six months after releasing iOS 7 -- the latest major update to the operating system controlling Apple mobile devices -- iOS 7.1 has hit the airwaves, providing bug fixes, performance enhancements and the addition of a few welcome additions that should make the experience of using your iPhone, iPad or iPod Touch a little better.
iOS 7.1 has been available to developers since November, and the development cycle has seen five separate builds, each version containing minor tweaks to the user interface in addition to the usual bug fixes. The final release can be downloaded and installed from iTunes on a Mac or a PC to a physically connected mobile device (when you plug your phone in, you'll see a button called Check for Update); you can also download it wirelessly on the device itself by using the Software Update feature located under the General section within the Settings app.
Update sizes vary from slightly over 200MB to 1.4GB, depending on the previous version of OS 7 you are upgrading from. Generally, users upgrading from the latest public release version 7.0.6 should see a smaller update; those with access to the developer beta builds of 7.1 will see much larger file sizes.
Faster and cleaner
There's nothing too different about 7.1, interface-wise. But the biggest improvement will certainly be one of the most appreciated: performance enhancements. Though iOS 7 and 7.1 benchmark roughly the same, navigating the user interface feels much faster due to speedier animations and decreased loading times caused by waiting for the transitions to finish.
iPhone 4 users should see a noticeable improvement in navigating their device, returning much of the performance that was lost in the move from iOS 6 to iOS 7. Gone are the jittery interface animations seen when opening folders and apps; instead, transitions happen much more smoothly.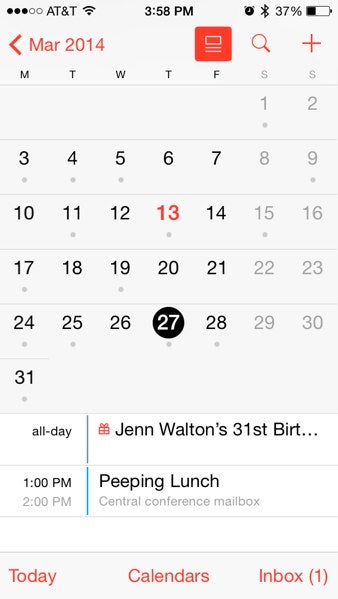 Also, iPad users should notice cleaner animation when using the clench gesture to quit out of an app and return to the Home Screen.
There are numerous bug fixes, including one for the Home Screen crash. This bug has been affecting iOS 7 users since shortly after the release in September -- some users experienced it several times a day. If you've never run into this problem, consider yourself fortunate. At random times, the device would flash and interrupt whatever you were doing, display a solid white/black Apple icon on a solid black/white screen and, after a few moments, return you to the lock screen. This behavior was random, it was annoying, and with 7.1, it should be gone. Good riddance.
Another fix involves TouchID, the fingerprint scanner found on the iPhone 5S. Some users found that the TouchID scanner decreased in accuracy over time, but with 7.1, it should work more reliably.
There's a fix for a glitch in the Mail badge -- previously it couldn't display more than 10,000 unread messages -- and notifications are now cleared on your other Apple devices when you answer a FaceTime call.
Interface changes
Some minor interface additions and animations have been added. For instance, when you hold the power button at the top of your device, you'll see an animation for power off. A power button will appear near the top of the screen, and a track with the message "slide to power off" will expand from that button, floating atop a blurred background, making the power-off command and the ability to cancel (located toward the bottom of the screen, just above the home button) a little more obvious. Sliding the onscreen power button to the right now causes the screen to progressively darken.
The power-off animation uses circles instead of the rectangles of iOS 7, and that theme is fairly consistent throughout the interface in 7.1. For instance, the Phone app used to display a large Call rectangle beneath the dialer, but in 7.1, this is now a circle below the 0 button. When making a call using the dialer, pressing the green Call button kicks in an animation in which the phone avatar shifts from its upright position to its side while the button itself fades from green to red, indicating that a press will now hang up the call.
Shop Tech Products at Amazon
What Readers Like
Cortana, Windows 10's built-in virtual assistant, is both really cool and really creepy.
Services like Keep, Evernote and Microsoft OneNote are often called "note-taking apps." But they've...
It had a good 36-year run, but its day is done.
Popular Resources
White Paper

White Paper

White Paper

White Paper

White Paper