Hands on: At just 1 pound, the iPad Air is worth the weight
Trimmer, faster and noticeably lighter than its predecessor, Apple's new iPad hits the bulls-eye for portable computing
The first thing you notice when you pick up Apple's new iPad Air is the weight, or rather, the lack thereof. The newest iPad, which arrived in stores on Friday, weighs just a pound, making it almost 30% lighter than the iPad 4. It's also thinner. And faster.
Apple execs unveiled the fifth-generation iPad two weeks ago, when they also announced that the next iPad mini will get a Retina display and a slightly higher price. (The new iPad mini is due out by the end of the month. Prices start at $399.)
The iPad Air moniker clearly references the device's lighter weight, and pays homage to Apple's MacBook Air, the popular laptop known for its cutting edge design. And while it has indeed slimmed down and trimmed up, the iPad Air isn't light on new features.
The Air features the now-familiar 9.7-in. Retina display surrounded by a new, narrower aluminum-and-glass enclosure that's 28% lighter and 20% thinner than last year's model. (The Wi-Fi/LTE models weigh 1.05 pounds.) The modified bezel, which is narrower on the sides than at the top and bottom, makes the iPad Air look like a grown-up iPad mini.
The Air is the first iPad to sport Apple's new A7 dual-core chip and 64-bit architecture (virtually the same chipset that powers the iPhone 5S); the M7 coprocessor (for sensing and recording activity without taxing the main processor); dual antennas and MIMO support (multiple-input, multiple-output) for better Wi-Fi throughput; and dual microphones for noise canceling. All of this packed into an enclosure that is just 7.5mm thick.
The Air comes in at the same price points as previous iPads: $499, $599, $699 and $799 for the 16GB/32GB/64B/128GB models, respectively. Add an additional $129 for the LTE models, which can be used with T-Mobile, AT&T, Sprint and Verizon. (Monthly data charges from the carriers are, of course, extra.)
On Friday, when the Air finally became available for purchase, buyers could order online or through the Apple Store app for same-day pick-up at Apple retail stores in the U.S. The Air was also available at other retailers, including Best Buy, Walmart, Staples, and Radio Shack, with many offering trade-ins for older, working iPads. Unlike the rollout in September of the iPhone 5S, when buyers lined up for hours or scrambled to find a 5S, iPad Air stock was plentiful at most outlets and remained so over the weekend. (If you need to check local availability, you can do so here.)
I was able to get an iPad Air on Friday by waking up at my normal time (6 a.m.) and placing an order for pick up using the Apple Store app on my iPhone before rolling out of bed. Twelve hours later, I walked out of the Apple Store at the Florida Mall with a 128GB Space Gray iPad Air with LTE.
I spent hours over the weekend using the Air, enough time to get a feel for how it stacks up to its predecessors, both in terms of performance and -- more importantly -- in terms of how well the new design works.
Quick refresher: The original iPad was released in April 2010 and weighed 1.5 pounds. The iPad 2 followed in 2011 and weighed just over 1.3 pounds (and was noticeably thinner). The iPad 3 and iPad 4, both of which were released last year, weighed more than 1.4 pounds. In other words, they got heavier. That's one reason the iPad mini, which weighs just 0.68 pounds, was a quick success after it was released a year ago. (I bought a mini and have kept it and my iPad 2 in rotation ever since.)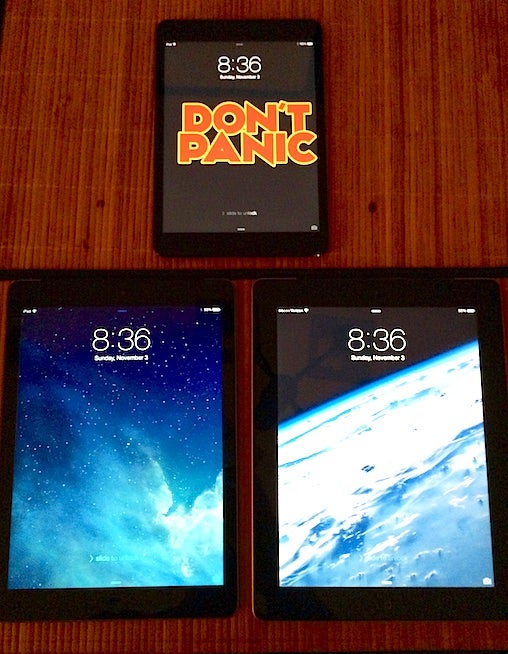 Shop Tech Products at Amazon
What Readers Like
China said it plans to develop a prototype of an exascale supercomputer by the end of this year,...
It had a good 36-year run, but its day is done.
President Donald Trump is considering a new way of distributing the H-1B visa to ensure they go to the...
Popular Resources
Research/Infographic
Sponsored

White Paper

White Paper

Case Study
Sponsored

Video/Webcast
Sponsored