The big surprise coming out of Apple's 2009 Worldwide Developers Conference appears to be the new batteries in the MacBook Pros. Early testers are seeing that the new MBP's have a huge amount better power consumption than their predecessors did. Not just a few percentage points, either.  In some cases, people are seeing double the battery life.
Battery technology simply doesn't advance this fast – or does it?
While the batteries themselves have almost 29-46% more capacity while keeping the MacBook Pros the same size and weight, the power management seems to be a big star as well.

Anand Shimpi took a look at these latest MacBooks and the results made him think his testing was flawed.  After running his test over and changing variables, he got the similar results.  Shimpi found that, on his 15-inch MacBook Pro, he saw double the battery life as the previous model and more than three times the battery life as the original 2006 MacBook Pro. 
Eight, freakin', hours. I couldn't believe it. In my lightest test, the new 15-inch MacBook Pro lasted eight hours and eight minutes. That's with the screen at half brightness (completely usable) and no funny optimizations. The notebook is just playing music and surfing through a lot of my old reviews. There's no way this could be right. Maybe my test was too light?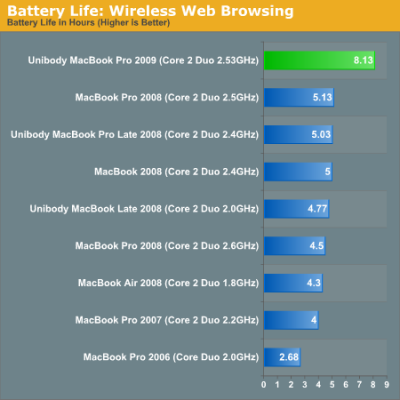 That is quite a jump from the original MacBook Pro, which only lasted 2.68 hours (and burns up your lap).  That's over three times the battery life. 
In his second test, Anand taxed the processor with Flash animations.  To his surprise, the new Unibody still had almost double the battery life as the one it replaced.

Anand isn't alone.
Leander Kahny had similar bewilderment at the improvements on his new 13-inch MacBook Pro.
There's a lot to love about the MBP 13", but the best thing is the new built-in battery. This battery lasts forever.

In an afternoon spent working – Word, Firefox, Photoshop and Wordpress, all while listening to iTunes, I've gotten 6 hours and 20 minutes from a single charge (about 70 percent brightness, WiFi on, 20 tabs in Firefox. It was working so hard, the MacBook got hot and the fans kicked in).

This is not just impressive, it's awesome! I can spend all morning at the Ritual coffee shop, which has covered up all the electrical outlets, and spend only $2 on coffee!

This kind of battery life is reserved for iPods and mobile phones, not laptops. The 2008 MacBook got under 2 hours in such conditions. Apple and others have gotten 8 hours plus in light usage.

So the batteries have 30% to 50% more storage, why are people seeing up to double the battery life?  There are a few big changes at hand:
Along with being denser, the new batteries come with "adaptive charging" to allow the batteries to get an optimal charge, every time.


The CPUs have seen a minor updates.  In the case of the 15-inch MBP, Apple has gone to a P8800 from a P8600 on the base model.  This chip is more powerful while using less battery.  The high end model has seen a similar upgrade
Apple has also had time to optimize the motherboard as well as the back-lit screen, its wireless technologies and other power draining components.  It also eliminated the ExpressCard slot and dedicated video option on the base level 15-inch MacBook Pro.   At the same time, Apple added things like SD Card, ambient light keyboard lights and Firewire to the base model 13-inch MacBook Pro
There have been reports that Apple slowed the SATA II bus down to SATA 1 speed (3.0 vs. 1.5 Gb/s speed).  While no hard drives will see a difference, newer SSDs might see a slowdown in performance.  I've got a call into Apple to see what's going  on in this regard.
Apple is so proud of the advancements it has made in battery technology, that it made a video, below, to showcase it.
So, it does look like Apple has a minor revolution on its hands.  In fact, while these early testers are getting up to eight hours out of their batteries, Apple is only claiming seven hours in their ads. 
Another first! A manufacturer claims less time than its batteries are capable of.