And then there were three. Samsung is now the first major smartphone manufacturer to launch a Google Android phone, the i7500. Samsung initially will aim the phone at the European market.
Specs-wise the device looks solid: It has a 5 megapixel camera, 3.2 inch AMOLED full touchscreen, and 7.2Mbps HSDPA, 5.76Mbps HSUPA 3G Internet access and Wi-Fi Internet connectivity. All of this and the device is less than half an inch thick (11.9mm).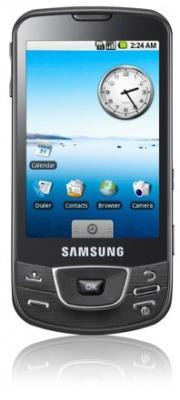 On the downside, it will only come standard with 8GB of Flash memory. That is just sad. Samsung makes something like half of the world's Flash memory, they could have put a little bit more in their Google Android Smartphone. Thankfully, they've included a MicroSD card slot (listening Apple?) which allows an additional 32GB of storage.
Since this is a Google OS, the device will, of course, excel at Web browsing, especially Google services like Google Apps, Google Maps and Youtube.
Speaking of video, the device supports the following range of multimedia codec formats (Video: MPEG4, H.263, H.264 and WMV. Audio: MP3, AAC, AAC+, e-AAC+, WMA and Real Audio). That's more than you'll get on the iPhone.
This device will also be able to use Google Latitude, the exciting, yet controversial GPS application that lets you know where all of your friends are.
The device will be available in major European markets by June 2009. Word on the street is that Americans will be able to buy it unlocked for use on T-Mobile or AT&T's US network. As of now T-Mobile USA carries the G1 from HTC, but it is not clear if they will officially pick up the "new Google Phone".
Samsung's press release has all the details in case I missed anything.