Books appear to be the hot trend in iPhone application activity these days.  Ben Lorica from O'Reilly has a lot of interesting iPhone application numbers posted this week on his website.  The one that caught my attention was the exploding books trend on the App Store.
Measured in terms of number of unique apps Books remains the fastest-growing category: during the week ending 4/12/2009, 11% of the apps in the U.S. store were in the Books category. Books has surpassed the Utilities category and may soon overtake the Entertainment category. Over the past week, Kindle for iPhone was the top app in the Books category.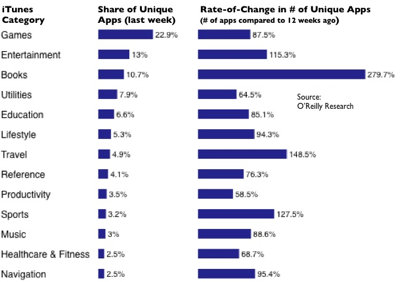 The number of Books applications has tripled in the last three months.  Instead of releasing a book on Amazon alone and hoping the 30 million iPhone/iPod touch readers pick it up through the very capable Kindle.app, many authors and publishers are going right to the source of their readership.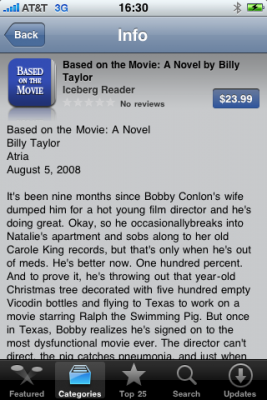 Using a Book publishing engine like Iceberg from Scrollmotion, just about anyone can publish a book online.  Scrollmotion is putting many already published books from major publishers like Simon & Schuster, Random House and Penguin into application form for the iPhone.
Better yet for the publisher, each book is its own "app" that can be linked to individually and can incorporate its own special artwork.  The author and developer get their own stats just like an application developer does.  Amazon's eBooks give the Author/Publisher much less control.
Every book is an app?  This is also, perhaps somewhat artificially, going to push up Apple's application tally.   But those are just stats; more importantly, a new realm is opening up for authors.
What is interesting about the App Store model is that Author/Publishers can change the application/book as they please.  If they want to offer a promotional price for a limited amount of time, it is in the their hands.  If they want to update the book with more relevant, timely information, it is "just" another submission to the App Store.  No more "X Edition" print runs like traditional book publishing.
Oh and with those 30 million iPod Touch/iPhone users out there, there is already a huge audience for these books.  Just as a barometer, that is 50 times more iPhones and iPods than Amazon Kindles out there.