I've used Belkin products for years.  Everything from wireless cards to power conversion devices.  Overall, they've been fairly solid.  Over the weekend, Engadget outed Belkin's Mike Baynard's attempt to solicit positive reviews at Amazon (albeit at $.65/each!) –- news that has put the company in a really sticky spot.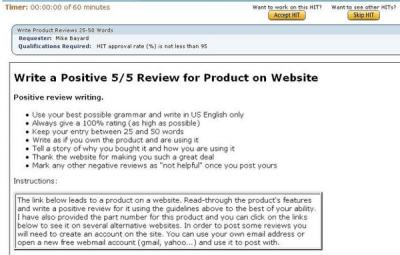 OK, we've got a maverick here, right?  Guy goes out on his own and tries to get positive publicity by really unethical means.  Give Belkin the benefit of the doubt. 
He's fired.  No brainer.
Unless he's got something to hide. Where was that $.65/each coming from?  
Belkin has always held itself to the highest standards of corporate ethics and its employees to the highest standards of personal integrity. Similarly, we support our online user community in discussion and reviews of our products, whether the commentary is good or bad. So, it was with great surprise and dismay when we discovered that one of our employees may have posted a number of queries on the Amazon Mechanical Turk website inviting users to post positive reviews of Belkin products in exchange for payment.

Belkin does not participate in, nor does it endorse, unethical practices like this. We know that people look to online user reviews for unbiased opinions from fellow users and instances like this challenge the implicit trust that is placed in this interaction. We regard our responsibility to our user community as sacred, and we are extremely sorry that this happened.

We want to stress that this is an isolated incident and to re-instill trust with you, we have taken the following courses of action:

- We've acted swiftly to remove all associated postings from the Mechanical Turk system.

- We're working closely with our online channel partners to ensure that any reviews that may have been placed due to these postings have been removed.

It's also important to recognize that our retail partners had no knowledge of, or participation in, these postings.

Once again, we apologize for this occurrence, and we will work earnestly to regain the trust we have lost.

Sincerely,

Mark Reynoso

President, Belkin
While they admit that they are at fault and this guy is the one involved, they say nothing of him acting alone or if he's staying with the company. 
To me, this indicates that there is much more to this internally at Belkin.  How far up does it go?  Who is involved?  As much as it hurts this guy who was doing his misguided best to help Belkin's sales, I think you have to deliver the pink slip to insure your customers that you don't condone this type of behavior.
I think this new world, where offline stores (Circut City?) fade into the sunset and online stores like Amazon (with community reviews) become the preferred means of buying electronics, will invite more and more of this type of behavior.  It will be interesting to see how it is dealt with.
Update: Uh oh. It gets worse.  Gizmodo got an email from the mother of a disgruntled employee (or maybe a sly competitor?) who said:
Belkin's supposedly paid for positive reviews, gave products with custom firmware to reviewers in order to hide bugs, faked certification logos, wrote poor reviews of competitor's products and backed out of CES for lack of funding. The company's supposedly in such bad shape that it's "commonly accepted that current CEO Mark Reynoso is running everything into the ground, while increasing his salary year after year."

The worst bit, for consumers, is that "the majority of Belkin employees purchased competitors products for home use, even with ours being offered free, as they are of such poor quality." On the other hand, we've had fairly decent experiences with Belkin products, so it's not as if EVERYTHING they release is bad (assuming this is true). And of course, the majority of Belkin employees aren't a part of this scheme, and this isn't an official written policy, but it's more of a thing that's forced upon them by management and their particular corporate culture.
 Gulp.