Tesla Motors introduced their $50,000 Model S Electric Sedan this week to lots of ooohs and ahhhs from the automobile and tech communities. The bad news is that this won't roll off the assembly line until 2011-2012, at the earliest. The car is a model of inspiration to a dying domestic car industry even though Tesla as a company has had its internal struggles.
Besides its great looks and incredible specs (and unfortunate leadership controversies), there is something else interesting about the Tesla. Google's founders Sergey Brin and Larry Page are big investors.
We learned this week that the Tesla would have an industry first 17-inch display that would include Google Maps for driving guidance and a 3G connection to use services like Pandora radio. You can also check the battery charge on mobile devices as well. For instance, you can check the charging while you are at work.
But that isn't all that the Google founders would probably like to get into this car.
If they had their way ...
That 17-inch display would be showing location-based advertisements as you're driving around. Adsense would take your GPS data and throw up some local restaurants, bars, clubs, etc. This would be beneficial to everyone involved ... except those who chose not to participate in this 21st century Yellow Pages.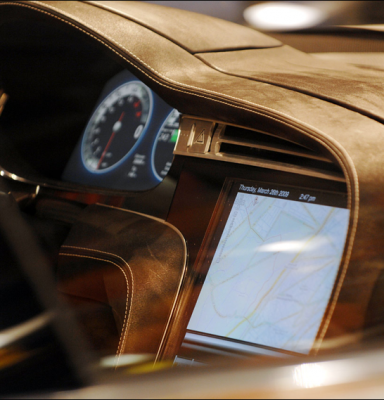 The car's web browser of choice will undoubtedly be Google Chrome. The OS that is running the system will likely be Android. Google Talk/Google Voice (Grand Central) could also be used for communications.
Going international? Use Google Translate to navigate your way to Cabo San Lucas ... or Quebec.
YouTube could keep the kids occupied in the back while driving or provide a distraction while waiting for a Big Mac in the drive thru line. Speaking of distraction, how about seeing your Google Reader feeds or Google News on that 17-inch display.
Mobile shopping is getting bigger and Google Checkout/Product Search could play a part of this. Need to exchange a battery for the Tesla? Pull up Google to find the closest/cheapest battery refilling station.
That's just the beginning. Google has their hands on what could be the most revolutionary vehicle of the millennium, if they put those big brains to work on what automobile consumers want, they'll likely come up with things that make other cars seem ... so last century.