Microsoft certainly isn't making it difficult for its detractors to criticize their foray into iPhone Apps.  The company's first product, which shipped this weekend and is dubbed Seadragon Mobile, is fundamentally broken – or so they say in the iTunes description and on the company's website.
A very important feature – the ability to browse Photosynth libraries – doesn't work:
The 'Browse Photosynth' functionality broke right after we submitted the app to the AppStore. Hopefully we'll get a new version with this fixed submitted to Apple in the next few days. Photosynth search and adding a user to view their Synths still works. Sorry!
There is a fix if you want to be able to use this functionality.  I'd try it except I don't want to waste 5 minutes entering in a huge URL that I'll probably mess up. Supposedly the app will be updated in a week.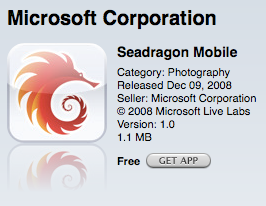 All of that being said, it is a pretty cool app for what it does, and that is zooming in on incredibly large image files over and over again.  And it is pretty quick.  I'd say about on par with zooming in on a Google Map.  Speaking of Maps, it does GPS functionality on map overlays which mimicks the Google Earth/Maps functionality somewhat. 
Of the other examples given, I am a huge fan of the Library of Congress maps and documents.  Any history buff will enjoy having these available on their iPhone.
The application itself is a pretty big event for the two companies.  Microsoft Live Labs seems to have some admiration for Apple's iPhone.  Alex Daley, group product manager for Microsoft Live Labs, gave the iPhone high praise:
"The iPhone is the most widely distributed phone with a [graphics processing unit]. Most phones out today don't have accelerated graphics in them. The iPhone does and so it enabled us to do something that has been previously difficult to do. I couldn't just pick up a BlackBerry or a Nokia off the shelf and build Seadragon for it without GPU support."
The thing that I don't like about Seadragon and Photosynth in general is the way that Microsoft uses a proprietary file format for its images and basically locks any interoperability with other companies' products.
If I upload my pictures, I can never have them back in a format of my choice.  If I want to look at them, I need the Photosynth browser (unless I misunderstand the way this application works).  It also doesn't work on my Mac.  So the barrier for me to enter this ecosystem fully is too high. 
But I guess this is just Microsoft being Microsoft.