Update: Uh oh, Google pulled their video (below) hopefully just  a blip :O  http://www.youtube.com/watch?v=lYLTiecN-EE and also from its iPhone site.
Update 2: Techcrunch says we'll see it Monday.  In their version Apple pulled the rug out from under Google
Google today unleashed its improved Google iPhone app to the press and supposedly to Apple.  But it hasn't yet hit the Apple store.  What gives?
This app follows on an amazing downsizing of Google's 3-D desktop application Google Earth app to the iPhone, which was released to critical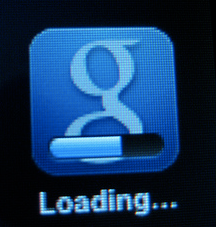 acclaim (and some slowness) a few weeks ago.
Today's news spread like wildfire.  John Markoff from the New York Times published the back story this morning Google's iPhone app would take user speech, send it as a sound file to Google's servers.  Google's servers would run speech recognition on it, send the words back to the phone which would do a Google search on it.  According to the Times, the functionality would be invoked by holding the iPhone up to an ear.  Apple's accelerometers would tell the application when to start recording.  The application was due:
...users of the free application, which Apple is expected to make available as soon as Friday..
Then Google released a video of the application shortly after the New York times article was published - also said to be released on Friday.
However, as I check my watch, it is now Saturday, and I still can't download this app.  Is something up with Apple not wanting its users to have this functionality?  Will Apple block iPhone users from this for some reason?  Perhaps Apple has a competing technology waiting in the wings?
Let's not get ahead of ourselves, it has only been 24 hours.  It will probably hit the store any second now.  One thing is for certain, time really doesn't fly when you are hitting refresh on the app store waiting for the coolest app yet (just kidding Qik).
Apple 2.0 is having the same doubts as well..
Oh, btw, I invented Google speech recognition with CMU's engine over two years ago as my Master's Thesis project.  I am waiting for my check.