Mac users have been waiting years for Google's Talk application to come to the Apple platform. Likewise, Google Apps users have been waiting for a cross platform Skype-like program to audio and perhaps video chat in their browser. 
As of today, both groups of users have something to celebrate.  Google Video Chat is live... go get it now.
The install is a simple 2.4 megabyte download that installs plugins for your browser.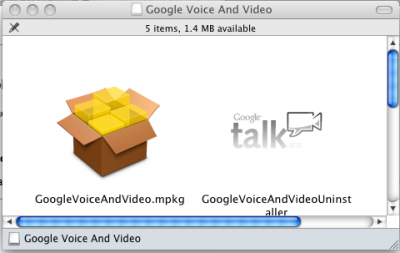 After installation you must restart your browser(s).  Initially I was the only one to be able to use this feature (I am a premier Apps customer).  However, throughout the day more and more of my Google contacts have been getting the little green icon (see below in the upper left corner).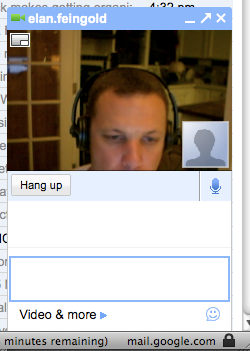 After reopening your browser, you won't really notice anything different until you go into Gmail and look at your Google Talk contacts.  Those who have also installed the Google Video Chat plug-in will have a different icon next to their name.  This works very similarly to iChat.  Those who only have audio don't have the video camera link.
One you get chatting, it works pretty much like iChat or Skype.  The latency is about the same and the quality is somewhere between Skype and iChat - which is better than I thought I'd see in a web app. 
Google Video chat is based in Flash so make sure you have the latest and greatest version of Flash on your computer.  
There are some hiccups as you'd expect from a first run product from Google.  The camera switching between apps didn't function as smoothly as I would have liked.  I had to restart Firefox to get it to "let go" of the camera, so I could use iChat again to video conference.
Overall, though, this is an incredibly solid product and adds a world of value to the already "steal of a deal" Google Apps suite.  And it is also nice as a Mac user to be on par (Google Talk-wise) with our PC brethren.  Now when will we see Chrome?