Part 2 of New Apple MacBook Series:
MacBook Pro
MacBook Air
Yesterday, I detailed Apple's Pro lineup of desktops and my thoughts on their future specs. Today, I'll lay out my thoughts on the consumer MacBook line - which should be released very soon.
First of all, I have been hearing a lot more about these products lately. Some lower-level Apple employees have seen it already, so that means images should be hitting the blogs (oh? this is a blog?) any minute now. It also means that it is about to be announced/released. The October 14th date actually seems far off as a release date now.
The consensus of what I've heard on the consumer MacBook line is that it is a thicker version of the MacBook Air with slightly curved black plastic much like the G3 Powerbooks. It is mostly black on the outside with aluminum around the edges. I've even heard "much sleeker, modernized G3 Powerbook" as a descriptor. That wasn't a bad machine at the time...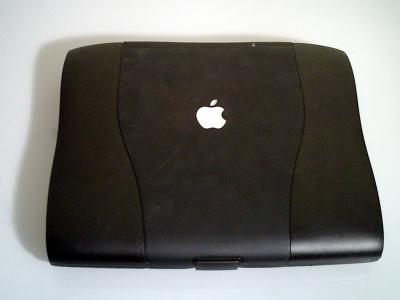 The Powerbook G3 was a great design at the time
As for specs, I'll throw out some guesses but I really haven't heard too much:
Screen. 16:9 LED seems to be the way the world is going. Unfortunately, as far as I can see, there isn't really a 16:9 13.3" screen. The closest match is a 14.1 inch screen. Perhaps Apple can bring the screens closer to the edges and fit the screen to a similar form factor as the current MacBooks.
Processor. Expect a step down from the Pros, as per usual. Centrino 2's at 2.4-2.8GHz-type speeds.
RAM. It is hard for me to see a reason to have more than the current 4Gb max in a consumer machine. 1 Gb standard.
Graphics. Intel integrated graphics have been the norm since the MacBook was first released. However a string of rumors has it that Nvidia's new MCP7A IGP chipset might be complementing the Intel processor instead of Intel chipsets. This will be nice because the Displayport technology will allow MacBooks to connect to WQXGA (2560×1600) 30 inch monitors natively. Joy.
GPS. Same as yesterday. Maybe when the Mac apps come along.
Cost. This is where things get interesting. Apple promised a lower margin product this fall. If Apple decides it wants to turn the $700 laptop market into its lapdog, it can with a mass-produced base model, easy to upgrade laptop. More likely, the MacBook will continue to be a $1000 machine.
As I said before, these products are already produced and have been seen around the Cupertino offices. That means they will be on store shelves in less than a month.