Update: Apple has posted a video of the presentation online here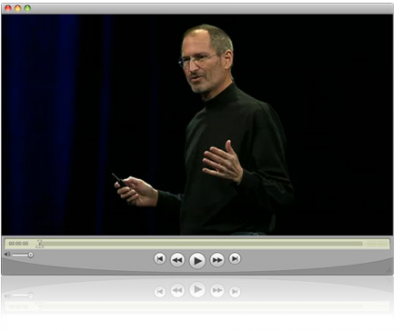 2:00 - That's it for me. I'll post the video when it hits Apple's site later today. Thanks for joining me.
1:55 - it is starting to be wrapup time. Jack Johnson playing - no one more thing, no new types of hardware....
1:53 - Biggest news of the day (in my household) iPhone 2.1 updated - "This is a big update, it fixes lots of bugs. Fewer dropped calls, big battery life improvements. No crashes with Apps. Backing up is faster" - THANK YOU (FINALLY)
1:50 - 'Funnest iPod Ever' Ad played - Prices reduced: The 8GB is $229, 16GB is $299 and 32GB is $399 - $100 price drop on 16 and 32Gb versions
1:45 - 100,000,000 Apps downloads in 60 days (mostly freebies) not a bad start. Phil Schiller (he's not losing weight) up to demo some unreleased apps. Spore, Soccer and Need for Speed....cool.
1:40 - New headphones with 2 drivers, in ear. $79. I want...iPhone versions?
1:35 - iPod Touch new design, stainless steel back rounded like iPhone. built in speaker and Nike+. iPhone like Volume control - very nice!
1:30 - Nano chromatic Rainbow of Nano colors...
1:25 - Double Size Storage, New UI - um - who called that?

1:20 - iPod nano is very similar to the leaks....Showing a siilver one with a black dial...and Accelerometer for jogging. Curved glass for extra glare outside. Shake to shuffle. ZOMFG
- did I mention that Jobs looks skinny? Maybe old is a better term...like he's aged 30 years in the past 3.
1:15 - Time for iPods!!! In July, the iPod has a 73.4% marketshare.
iPod Classic 120GB Thin as the 80Gb...Zune style
1:10 -Genius demo - information sent voluntarily to the cloud. Items displayed that you may likeon iTunes Store. Great way to discover new music and make Apple a few bucks at the same time.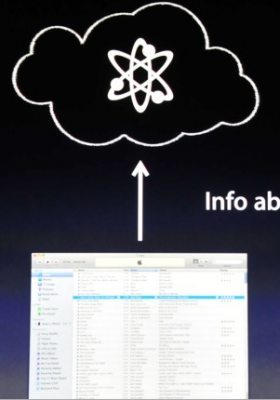 1:07 - Steve looks a bit like Skeletor. Poor guy. Uh, oh sell your stock now..
1:06 - Browsing Genius is real...more ways to enjoy music
1:05 -NBC Coming back to iTunes in High Def - all of your favorites
iTunes 8 !!!!!
Jobs springs onto stage...Skinny but Spry - iTunes is the talk of the day. Music music music...Stats:
8.5 million songs. Over
125,000 podcasts,
30,000 TV shows,
2600 movies.
over 3,000 apps for iPhone and touch."
1:00 Video from Slashgear coming in - do we have a 1st? Live video from Keynote?
12:55 - People getting seated...all of the regular faces are there...Walt, Fake Steve, Pogue, Wired's crew...all representing...
12:50 - Letting people in...Apple PR people are saying it'll be a tight squeeze inside - sounds like the room was smaller than they anticipated
12:45 - Engadget is saying that Chad Hurly, co-founder of Youtube is there. Will there be more Youtubeulicious tie ins? Nano Youtube???!!! Oh noes! He prolly is just there for the John Mayer show
12:40 - Gizmodo caught Fake Steve getting ready to see real Steve. Will the Bizzaro world collapse?
12:35 - Will iPhone 2.1 have any push capabilities?
12:30 - How about the tablet? No one is talking about that possibility? Is that a pipe dream?
12:25 - Anyone else think the Nike+ relationship might see some love? Maybe with some 24 Hour Fitness thrown in? Other surprises?
12:20 - Any chance Apple will match the specs of yesterday's Zune announcement today? What? They already have? D'oh
12:15 - Sorry had to adjust may catheter and carbo load. I'm back in it
12:00 - People are apparently getting into the cordoned off area (from Giz)
11:55 - 30 year old iPod?
11:50 -Lots of other liveblogs out there... (from MacDaily news)
• Ars Technica
• CNET - Tom Krazit
• Computerworld
• Engadget
• Gizmodo
• iLounge
• Macworld
• SlashGear
• Techztalk
but obviously this one is the best
11:45 - Apple Fatigue hitting the street?
11:43 - Cheaper iPods will be nice.
11:40 - That new "Shuffle by shaking" feature that is being reported....how is that going to work while jogging...I guess you'll hear the 1st 2 seconds of every song you own
11:37 - Fortune doesn't think Apple needs the iPod. What did iPod ever do to Apple?
11:35 - C|Net is sure Apple will disappoint. I guess maybe we should just all go home...
11:30 - Popular Mechanics has top 5 iPod features that won't - but should make it. I largely agree.
11:00am EDT - Right on schedule the Apple store is down. Anyone ever think the Apple Store Outages might be more of a publicity stunt than a CMS problem?
Lots of late things coming in from AppleInsider, 9to5mac and MacRumors...looks like a rainbow of colors coming our way!
9:00 EDT Welcome to coverage of the September 9th event. News is already rolling in
Related News and Blogs