Apple pulled the push notification feature of its iPhone 2.1 software in the last pre-release beta version that it seeded to developers. This would have made applications like instant message services much better than they are currently because they would have the ability to operate in the background while the iPhone is asleep or on another application.
Why? Common sense would dictate that it was pulled because Apple wasn't sure it could be stable by the time 2.1 was final. Apple was already reeling from the instabilities in the first few revisions of its iPhone 2.0 software and its customers wanted something more stable.
But there could be another reason. Perhaps Apple is hiding something?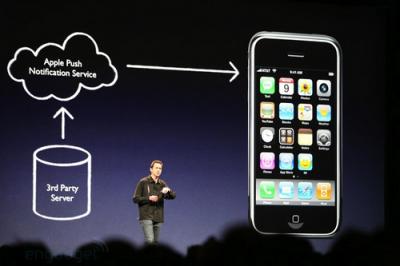 Apple is expected to have a "big deal" launch tomorrow. The push notification system could be tied to many parts of a new hardware product's internals. Perhaps a tablet or wearable computer? Or mayb just a modestly updated iPod Touch. Apple would want to hide this from the lion's share of developers.
Also, Apple may be introducing some other functionality to its devices that may be intertwined with push. Maps for a turn by turn application - perhaps push traffic? Or how about push for a VoIP application? What if Apple was launching on another type of network (CDMA Verizon, Sprint?) and some of the new push elements made reference to this?
A more sinister rationale? Perhaps AT&T bigwigs were worried that a full push instant messaging client would prevent them from selling as many of their lucrative $15/month unlimited texting plans as they currently are selling. Delaying a good instant messaging client as long as they have on the iPhone is already highly suspicious.
Finally for gaming ... Apple is suspected of working with 24 Hour Fitness on Excer-gaming on the iPhone platform ... wouldn't that be interesting?
Or, I could be entirely wrong and the cut off could be for stability. It's strange that Apple has kept this omission quiet until the event -- not the best place in the world to break bad news.
I guess we'll see soon.