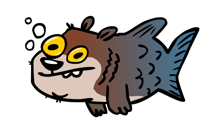 We already know Safari is fast. One of the fastest browsers out there and probably (Firefox 3?) the fastest mainstream browser around on Windows or Mac.
However, it is set to get even faster with the new Javascript rendering engine interpreter that the Webkit group says is 1.6 times faster than WebKit's previous interpreter.
According to Surfing Safari Weblog:
SquirrelFish is a register-based, direct-threaded, high-level bytecode engine, with a sliding register window calling convention. It lazily generates bytecodes from a syntax tree, using a simple one-pass compiler with built-in copy propagation.

SquirrelFish owes a lot of its design to some of the latest research in the field of efficient virtual machines, including research done by Professor M. Anton Ertl, et al, Professor David Gregg, et al, and the developers of the Lua programming language.
To illustrate the significant speed increases that can be attained with SquirrelFish,check out the graph below:

As John Gruber points out, the extra speed will be especially important to mobile Webkit using devices like the iPhone whose speed is largely dependent on Javascript rendering.
New versions of Webkit include the new Javascript interpreter and they should be hitting the mainstream Safari browsers in the coming weeks/months.
Like this blog? Subscribe to the RSS feed!