OpenOffice 3 review: Who needs Microsoft Office?
I've just put the beta of OpenOffice 3 through its paces, and found that the office suite can do just about anything that Microsoft Office can do, supports a wide variety of formats...and, of course, is free. Given all that, who needs Microsoft Office?
I reviewed the Windows version of OpenOffice 3. The 147.9 MB download comes with six applications: the Writer word processor, Calc spreadsheet, Impress presentations program, Base database program, Math equation editor, and Draw graphics program. Even at a more than 147 MB download, though, it's still svelte compared to Microsoft Office.
Keep in mind that this is an early beta, and the program isn't expected to be ready until September. It's buggy, so don't use it in a production environment.
For most of what you use an office suite for, you'll find that OpenOffice 3.0 will more than fill your needs. Whether you're creating documents, spreadsheets, or presentations, all the basics, and much more is here. There's excellent formatting tools, mail merge, macros, solid charting tools, and the ability to easily create presentations.
An excellent new addition is the Start Centre, pictured below. It lets you easily create a new document, or open an existing one --- just click the proper icon. The Start Centre only appears if you don't currently have an OpenOffice application opened. Once you've opened an application, you can create or open a document by right-clicking the OpenOffice icon in the system tray, and making the appropriate choice.
Particularly useful is that OpenOffice now handles a wide variety of formats, including the upcoming OpenDocument Format (ODF) 1.2 standard, and will also be able to open documents created in Microsoft Office 2007 and Office 2008 for the Mac, which means that it's about as universally useful as an Office suite can be. It can also export files to PDF format. Mac users will be pleased to know that it can run on Mac OSX without having to use X11.
The OpenOffice wizards are especially useful, and walk you through tasks such as creating databases and presentations. Experts won't need them, but everyone else will most likely welcome then. You can see and Impress wizard in action below.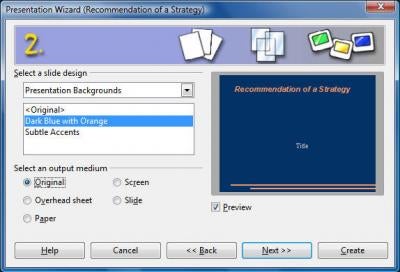 One drawback is the program's stodgy, dull-looking overall interface. It's functional, but not more than that. And it's certainly not nearly as useful as the Microsoft Office 2007 ribbon. The screenshot below shows Writer in action. It's good that it now supports displaying multiple pages on screen. But overall, using this program feels like a trip back to the 1990s.
OpenOffice also doesn't support some of Microsoft Office 2007's higher-end features, such as Quick Parts. And there's very few templates, backgrounds, and layouts. And if you work in an enterprise that's standardized on Microsoft Office, you won't find the program of much use.
But if you can live without a few high-end features that most people don't use, and don't mind not having plenty of templates, you'll find OpenOffice 3 a winner. There's no need to pay top dollar for an office suite, when there's a free one, just waiting to be downloaded.
By the way, I'll have a more complete review running in Computerworld soon.
For more details about the beta, and to download it, click here.
Like this blog? Subscribe to the RSS feed!
Shop Tech Products at Amazon