A few days ago, to counter bad press about Vista, Microsoft announced the launch of the Windows Vista Compatibility Center, a web site to prove to people that plenty of hardware and applications work just fine with the operating system. Two days later, the site doesn't work. Chalk it up to one more embarrassing Vista moment.
On Tuesday, with great fanfare, Microsoft said the beta of the site would be available. It was being launched to counter the general feeling of many people that plenty of hardware and software wouldn't work with Vista.
Microsoft's Michael Keigley, product manager in charge of the site, admitted that at Vista's launch, "there's no denying we had incompatibilities in the system."
Enter the Vista Compatibility Center, which is supposed to be a searchable Web site that lets you find whether a particular application or piece of hardware works with Vista. It will list 9,000 products that work with Vista.
There was only one problem at launch: When you visited, you got to a Web page which read, "The Windows Vista Compatibility Center is currently unavailable. Thank you for your interest, but this site is not available yet. Please check back soon."
Two days later, the problem hasn't been fixed. As I write this, if you head there, the message now reads, "The Windows Vista Compatibility Center will be launching soon, please check back." You can see the screenshot below.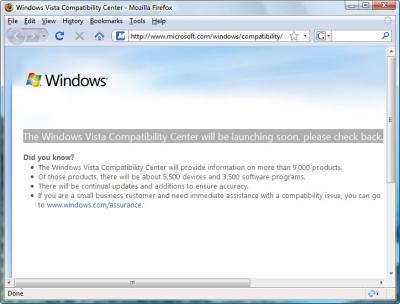 What's with Microsoft? Can't it launch a simple Web site? This is no way to convince the world to move to Vista, and it's just one more example of why people don't trust Vista. I count myself a fan of the operating sytem, but many people don't. This certainly isn't helping matters.
Like this blog? Subscribe to the RSS feed!