News around the web is that Apple is planning to reduce its iPhone shipments to Rogers, Canada's lone GSM/EDGE/HSDPA provider. The rationale is that Apple is punishing Rogers for its expensive pricing and three year commitment requirement.
Rogers only has a few days left to make adjustments to its pricing. Major Canadian media outlets (2) are encouraging Canadians to boycott the iPhone until Rogers comes out with competitive plans. Internet petitions are all over the place. About half of Digg's Apple stories of late have been related to Rogers iPhone backlash.
I am with the Canadians who think that Rogers' prices are outrageous but I really don't think Apple would punish its partner by reducing shipments. More likely, Apple is reducing its shipments based on the percieved lack of demand that these outrageous prices (and the public outcry because of it) will inflict.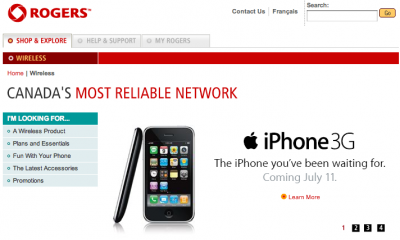 Rogers has a week left. Will they drop their prices/requirements?
Update: Well they've given a very little..$30 for 6Gb.  Wow, stingy up there in the Great White North
Like this Apple blog? Subscribe to the RSS feed!