Little clues in the latest iPhone SDK reveal that the iPhone will soon be set for input use from the following languages: Swedish, Danish, Finnish, Norwegian, Polish, Korean and Portuguese (Brazil). This is in addition to the English, French, German, Italian and Russian which the current iPhones have.
The SDK (2.0 240D) released to beta testers this week by Apple include language input files from these new countries, but there are no new carrier files that would out which specific carriers would receive the iPhone. For instance, there is a carrier file (which contains APN setting strings) for TIM out of Italy. It stands to reason that TIM's customers in Italy will soon be able to get the iPhone.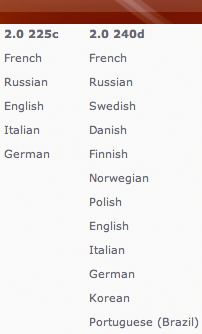 Does this mean that the iPhone is coming to the other countries that have input support for their native language? Both Italian and Russian existed on the previous iPhone software without announcements that the iPhone would be available in those countries.
According to The iPhoneblog, it seems pretty likely that this information means upcoming iPhone support. Curiously, Korean is included but Apple's biggest market outside of the US and likely 3G iPhone recipient, Japan, isn't included. Neither is the biggest market in the world, China/Chinese.
Does this mean the the iPhone will be coming out in Korea first in the Asia/Pacific region? And when will we see Russian and Italian iPhones?
So many questions....
[Like this blog? Subscribe to the RSS feed here!]