Adobe, in my opinion, has a huge hit on its hands here that will likely change the way we use image editors. This isn't going to change many current Photoshop CS3 users, rather it has created a new customer base among the Bloggers and Facebookers that will eat this Web application up.
I've been waiting for my chance to play around with the online, Flash-based Photoshop Express for awhile. Adobe started granting beta users recently so I signed up.
If you are thinking about doing so, I'd recommend you hurry. As part of the setup process, you get to decide your URL xxxx.photoshop.com. Wait awhile and that favorite URL you love will get snapped up. Also, this application is going to be a pretty big deal I think.
The application is a web-based Flash Software as a Service (SaaS) that resides on Adobe's servers. It runs well in Safari, IE7 and Firefox (latest versions and even Firefox 3 and the latest Webkit). It, however, won't work on devices that don't support full Flash. (*cough*iPhone)
Once you confirm your email address and log in, you are presented with a list of choices (below). Uploading photos seems like the obvious choice.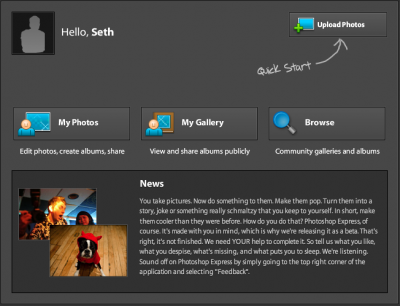 Uploading is easy and straightforward. What is REALLY cool is that you can connect to your Facebook, Photobucket, and Picassa albums and edit those pictures inline. Taking out that laser red eye never was so easy!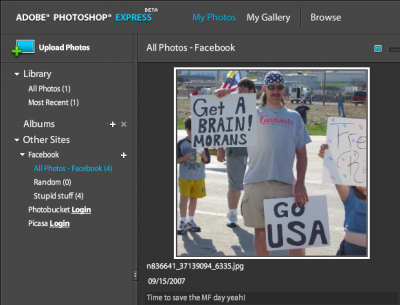 As for the abilities of Photoshop Express, CS3 needn't be worried. It is a very basic photo editor. It does a lot of little things (Cropping/resizing/color changing/etc.) but doesn't operate like a real application. Flash is significantly...painfully...slower and has about 20% of the functionality of the full version of Photoshop CS3. Also, as far as I can tell, there is no desktop Photoshop CS3 integration (yet) which would be a fantastic feature.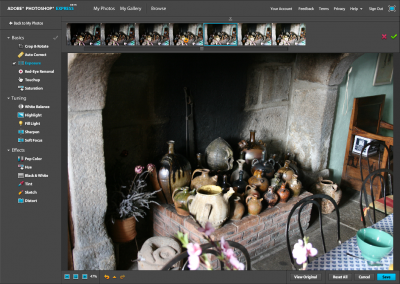 The good news is that it does the 20% pretty well. The real upside is the advantages of being a web application that it brings to the table. You now have two Gigabytes of storage offline that you can link to in your blogs or websites. You can edit these images on the fly without having to re-up/download them each time. You also can move from computer to computer and are just a login away from your library of photos.
Oh. And it is a lot of fun!
[Like this blog? Subscribe to the RSS feed here!]