Anyone who used computers in 1997 might get a feeling of deja vu when they use one of Internet Explorer 8's most-hyped new features, WebSlices. WebSlices seems like nothing so much as a clone of the ill-fated, ill-conceived, very buggy Active Desktop rolled out back in 1997 with Internet Explorer 4.
Come with me on the Wayback Machine for a moment or two and I'll describe Active Desktop to you. Active Desktop worked a lot like widgets and Vista gadgets do today --- it grabbed information from the Web, and displayed it on your desktop in a little widget. Microsoft said that Active Desktop items are:
...live content that Internet Explorer 4.0 lets you bring from the Web to your Active Desktop...You'll find cool items that deliver regularly updated news, entertainment, tools, and more.
Here's a screenshot of one of the Active Desktop widgets from back then:
The description of Active Desktop is very nearly an exact description of the new WebSlices feature in IE8. They do exactly what Active Desktop was designed to do --- grab information from the Web, and display it in a kind of widget inside Internet Explorer. Here's a WebSlice that Microsoft shows off today: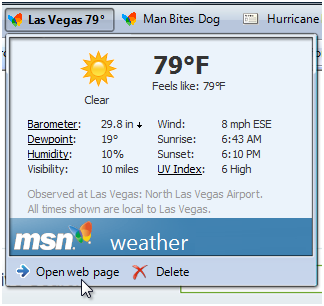 Ironically, back in 1997 on a page about Active Desktop, Microsoft was touting an MSNBC Weather Map --- and today, it's touting MSN Weather as a WebSlice. The more things change, apparently, the more they stay the same.
What ever happened to Active Desktop? It was a fiasco. It sucked up an enormous amount of system resources and slowed systems to a crawl. It crashed PCs. It was extraordinarily slow, because back in 1997, most people were still using dial-up modems. It died a slow, painful death.
So why did Microsoft go back to the future with WebSlices? Because Active Desktop was actually quite a good idea, but was way ahead of its time and implemented poorly. Processor speed, RAM, technology and bandwidth finally caught up.
It's unclear, though, whether WebSlices will actually catch on. It requires that content providers create content for it, and developers include code on their Web sites to allow it. And it remains to be seen whether that will happen.
For a more in-depth look at IE8, including WebSlices, check out my blog Five things you'll love (or hate) about IE8. And to see an archived page about Active Desktop, click here. Note that some graphics are missing in the archived page.
[Like this blog? Subscribe to the RSS feed here!]