The Macintosh is back....Officially.
Apple's marketshare has been increasing slowly and steadily for several years in a variety of areas but is still in the single digits in most. This week, however, the Mac platform finally has a big win in its hands.
Higher education.
Apple dominated higher education technology, and education in general, in the 1980's and early 90's - but eventually succumbed to Dell's razor thin margins and "good enough" hardware.
Although the laptop was in its relative infancy back then, it is the preferred platform of computing for today's college kids. This week we learned that today's university students' laptop of choice is a Mac. Tim Cook mentioned it in last week's Goldman Sachs Technology Investment Symposium:
"We just received word on Monday that Apple surpassed Dell as the number one supplier of portables to US higher education for 2007," Cook claimed.

"The ceiling for the Macs is nowhere in sight. Even if the market itself isn't growing, for us, switching Windows users is an enormous opportunity," Cook also added.
An October 2006 article in InsideHigherEd.com, a journal on trends in universities, found that in 2006, Dell sold around twice as many notebooks as Apple:
A spring 2006 Student Monitor survey of 1,200 full-time four-year undergraduates at 100 campuses found Apple squarely situated as the No. 2 preference among the 19 percent of college students — equivalent to 1.1 million people nationwide — planning to purchase a computer within the next year. Among those students planning to buy a desktop, 41 percent said they planned to buy Dell and 13 percent Apple, with other companies, including Gateway, HP and eMachines, close behind Apple, with 9, 7 and 6 percent of the pie respectively.

Among those buying notebooks — which 68 percent of students who said they would buy a computer within the next year planned to purchase — Dell is still the leader, with 40 percent planning to buy Dell laptops. But Apple, with a 21 percent share, has no close competitor for second-place: HP and Sony Vaio, the next-largest players in the market, have just 6 percent of the share each, Weil's data shows.
That is a serious turnaround for Apple. At the very least, we can assume that Apple picked up 10% and Dell lost 10% marketshare in 2007 - which would put Apple at 31% and Dell at 30%.
There are many reasons for this turnaround. Vista is getting ridiculed by everyone, including people within Microsoft while Apple products including the iPod and iPhone with their "halo" effect are the new it gadgets for students and adults alike. Also, since Apple moved to Intel and Windows emulation products like Parallels and VMWare have matured, the spectre of "not being able to run that old Windows-only application" have dissappeared.
While a few years back you might have had to go to extreme measures to get your department to go Mac, with this weeks news, it should be a lot easier. Maybe we'll even start seeing some more classes like the ones at Missouri School of Journalism (who reccomend Macs) pictured below.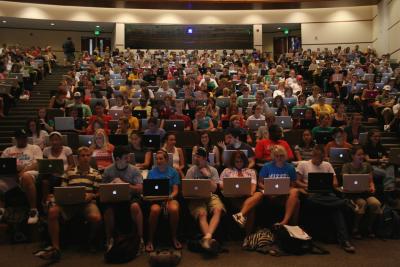 Apple has been the leader in Western European Higher Education for a few years including almost 55% marketshare in Switzerland.