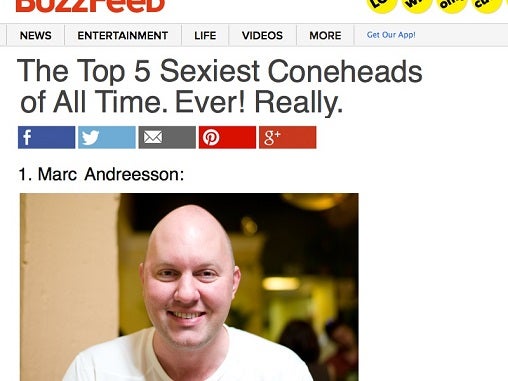 Buzzfeed: Click bait, or hook, line, and sinking feeling?
The 17 Most Annoying People You Know on Facebook link to it. It is one of the All-Time Top 5 Websites Accused of Being Click Bait. It is chock-full of enlightening, unique content such as "Absurd Misheard Song Lyrics", "The Absolute Best Misheard Song Lyrics", "10 Of The All-Time Most Misheard Song Lyrics" and the incomparable "Check Out These Absurdly Funny Misheard Song Lyrics." If you guessed from the flood of literary regurgitation the unnamed website is Buzzfeed, then perhaps that is the reason VC firm Andreessen Horowitz recently invested $50 million.
Help us all.
In IT Blogwatch, bloggers edit a file named /etc/hosts.deny.
Filling in for our humble blogwatcher Richi Jennings, is a humbler Stephen Glasskeys.
Mike Isaac shares insights, insights, insights! WHOOO!:
Here are three completely crazy insights:

...

1. BuzzFeed is a web traffic sensation that draws 150 million average monthly viewers.

...

2. Numbered lists, like this one, are what the site is most famous for and drive much of its audience.

...

3. BuzzFeed wants to be known for much, much more.  MORE
Steven Musil muses over valuation:
The New York-based company, which was founded in 2006, tracks and serves up the content that is getting the most attention on the Internet to its 150 million average monthly viewers. The investment gives the company a valuation of $850 million.   MORE
Straight from the buzzing horsefly's proboscis:
We see BuzzFeed as a prime example of what we call a "full stack startup". BuzzFeed is a media company in the same sense that Tesla is a car company, Uber is a taxi company, or Netflix is a streaming movie company.

...

The most interesting tech companies aren't trying to sell software to other companies. They are trying to reshape industries from top to bottom.  MORE
Time is money to Dylan Tweney:
By the way, who makes major funding announcements at 6 p.m. Pacific on a Sunday? Buzzfeed execs: We hope you're prepared for Dixon's calls at any and all hours of the day or night, 24-7, because this man clearly has no sense of the weekend.  MORE
And Matt Rosoff gets nostalgic:
Amazing to consider: A decade ago, Buzzfeed didn't exist. Neither did HuffPo, Business Insider, TechCrunch, Gawker, Vice, or Facebook.  MORE
But John Gruber gets off at the wrong station:
I read about 1-2 things on BuzzFeed per year. I'm on the wrong Internet again, aren't I?  MORE
Meanwhile, Maddox just gets mad:
Nothing makes me go from happy and optimistic to destitute and angry as quickly as seeing a BuzzFeed link. Between the stolen images, vapid content, lame jokes, recycled memes and desperate assimilation of all things pop culture, I feel like I'm dealing with a cultural hydra.  MORE
Computerworld Blogs Newsletter
Subscribe now to the Blogs Newsletter for a daily summary of the most recent and relevant blog posts at Computerworld.