The Expendables 3 appeared online, but it's not a shaky cam version because the movie is not slated to hit theaters until August 15. Instead the film is a high-quality version apparently ripped from a screening DVD. Over 100,000 copies were downloaded in 12 hours, according to Torrent Freak; that quickly jumped to over 200,000 in about a day and well over 500,000 now. There hasn't been such a high-profile film leak since 2009 when a workprint of X-Men Origins: Wolverine leaked online nearly a month before it was released in theaters.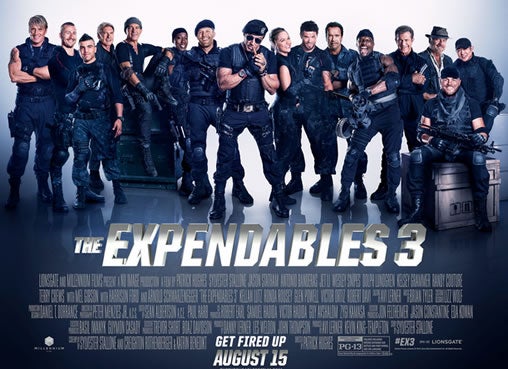 The Expendables 3 cast, "featuring every action hero known to man," includes Sylvester Stallone, Jason Statham, Jet Li, Antonio Banderas, Wesley Snipes, Dolph Lundgren, Mel Gibson, Harrison Ford and Arnold Schwarzenegger. Several pirate groups reportedly had copies of the movie since about July 15, but were too "scared" to leak it. "Most private groups had it for more than 10 days, but again they were scared to leak it," Torrent Freak was told before tracing the leaker back to a public posting on 4chan that was timestamped on July 14.
Variety, quoting Excipio IT-Forensics copyright intelligence, said The Expendables 3 was downloaded via piracy sites 189,052 times worldwide over a 24-hour period, with 42,216 of those in the U.S. At one point last week, Torrent Freak said more than "65,000 users were engaged in transfers on a single torrent," making the leak even more popular than the prelease of X-Men Origins: Wolverine. At that rate of downloading, The Expendables 3 was ranked at number one on the top 10 most-pirated movies list last week.
Although production/distribution studio Lionsgate declined to comment, it is advised to keep in mind that, in 2011, production company Nu Image sued 23,000 BitTorrent users for downloading the original The Expendables film. Numerous sites are predicting Nu Image will go after Expendables 3 downloaders.
Nine months after X-Men Origins: Wolverine was uploaded to Megaupload, the FBI busted the New York man responsible for the leak. He was sentenced to a year in prison. Fox had estimated that "at least 15 million people downloaded the movie," supposedly "representing tens of millions of dollars in lost revenue."
On the other end of the spectrum, movie director Lexi Alexander slammed the MPAA's anti-piracy claims as being a bunch of bull. She claimed filmmakers also download pirated movies. "Piracy has NOT been proven to hurt box-office numbers, on the contrary, several studies say it may have boosted the bottom line," she added.    
Downloading is not the only way people are getting hold of The Expendables 3, as the film quickly moved from torrents for downloading to streaming sites where people watch TV and movies online. While those streaming sites are not the same as BitTorrent streaming via Popcorn Time or Zona, which have been called "Netflix for pirates," if the Justice Department has its way, then streaming will also become a felony.
DOJ wants unauthorized streaming to be a felony
David Bitkower, Acting Deputy Assistant Attorney General, told a House Judiciary Committee that the U.S. needs to criminalize unauthorized Internet streaming. Torrent Freak explained, "Technically, streaming doesn't count as distribution but as a public performance, which can only be charged as a misdemeanor." Bitkower said, "The Administration recommends that Congress amend the law to create a felony penalty for unauthorized Internet streaming. Specifically, we recommend the creation of legislation to establish a felony charge for infringement through unauthorized public performances conducted for commercial advantage or private financial gain."