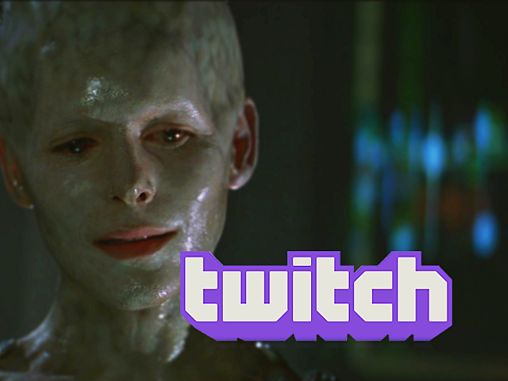 Google: Resistance is futile.
If you are a gamer, odds are good you've heard of Twitch. For those that don't know, Twitch is the go-to destination for watching live streaming videogame play online. It also happens to consume a higher percentage of Internet bandwidth than Hulu or Facebook. Bandwidth? Enter Google (NASDAQ:GOOG), which has reportedly decided to purchase Twitch for one beeeelion dollars.
So are gamers happy with Google's decision to assimilate acquire Twitch? Grumbling has already started, but some gamers believe Google is boss -- playing on a level that can never be beat.
In IT Blogwatch, bloggers welcome their new primary colored overlord.
Filling in for our humble blogwatcher Richi Jennings, is a humbler Stephen Glasskeys.
Dean Takahashi will stream content for $1 billion:
Google has signed a deal to buy game-livestreaming firm Twitch for $1 billion, confirmed sources familiar with the matter.

...

Twitch enables people to broadcast their own gameplay sessions on the PC, Xbox One, or PlayStation 4 to online viewers ... In March, Twitch represented 1.35 percent of all Internet traffic, according to Sandvine.  MORE
Truthful Alex Osborn reports:
[If] this report does prove to be true, one of the biggest tech-centric companies is going to become even larger.  MORE
In a hurry, Christina Warren takes off:
Twitch got its start in 2011 as part of...Justin.tv. It's appeal at the time was that it was one of the few places gamers could stream real-time game sessions.

...

The site quickly took off and now boasts more than 50 million monthly active users with 1.1 million broadcasters.  MORE
Roymanan tries to find a video with meaning:
Google has has reached a deal to buy Twitch...for $1 billion. It is specifically going to handled by the YouTube team. So what could this mean?

...

It just depends on if copyright infringement problems start to happen, like they did on YouTube when they got bought out. Also no word on if they will try to integrate Google+ yet, but I hope not.  MORE
And Todd Spangler is prepared for the next challenge:
With Twitch, YouTube could extend live-streaming to other categories [with] partners like Disney's Maker Studios and Machinima ... YouTube's own efforts...have had limited success to date.

...

One potential issue...is that regulators may challenge the transaction if they believe [combining] the No. 1 online-video platform (YouTube) and the No. 1 live- streaming Internet service (Twitch) raises anticompetitive issues. Google's lawyers have been preparing for such an objection, sources said.  MORE
Gamer Jericho - Tucker might be a love 'em and leave 'em kind of guy: [You're fired - Ed]
I hope they just buy it and then leave it, just like they did with Motorola.  MORE
Meanwhile, Nerd³ turns off his console to play a board game:
Anyone up for a game of monopoly?  MORE
Computerworld Blogs Newsletter
Subscribe now to the Blogs Newsletter for a daily summary of the most recent and relevant blog posts at Computerworld.