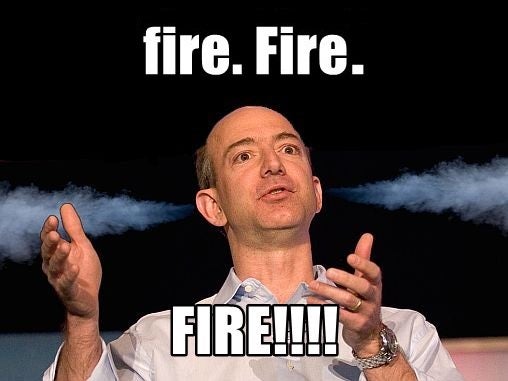 Fire Phone reviews: Is Jeff Bezos fired up or steaming mad?
Reviews are in for the Amazon (NASDAQ:AMZN) Fire Phone. How are prospective perceptions of dynamic perspective? (Try saying that three times fast.) Is this phone going to catch the world on fire, or sputter and die out? Read on and find out!
In IT Blogwatch, bloggers join the fire brigade.
Filling in for our humble blogwatcher Richi Jennings, is a humbler Stephen Glasskeys.
A peerless David Pierce piece, piercingly pieces a review together: [You're fired -Ed.]
Amazon's worked for years on the Fire Phone, thought deeply about what smartphone users need and want, and put all the resulting ideas into one device.

...

Time and time again [it] reminded me that there's a difference between good ideas about phones and good phones. A big difference.  MORE
Brad Molen on the case -- on the case: [!! -Ed.]
The back isn't as busy as I expected. Despite being an AT&T exclusive, the carrier's logo is nowhere to be seen on the device. [The] camera, LED flash and mic are neatly tucked away in the top-right corner.

...

Sadly, the front is a massive contrast to the minimal back, with the five lenses being the primary culprits. ... The only button is a Samsung-esque home key that protrudes out of the glass underneath the display.  MORE
A phone turned on gathers Walt Mossburg:
I've been testing the Amazon Fire phone since last week, mainly comparing it to the iPhone 5s, which I consider the best smartphone on the market.

...

I consider [it] no more than an interesting first step. In my tests, I found its big new features less useful than I expected, and sometimes outright frustrating.  MORE
Kevin C. Tofel has been there, done that:
If you've seen one rectangular slab of a phone, you've seen 'em all. Having said that, the Fire Phone has an appealing design: Corning Gorilla Glass 3 on the front and back with a rubberized, curved edge around the sides.

...

I used the handset...and didn't run into any major limitations and the performance is solid. It's pretty easy to get around on the phone too.

...

Dynamic Perspective in general, though, seems a little gimmicky.

...

The real benefit comes into play when apps take advantage of the camera data. Amazon's Maps is a good example, letting you get at Yelp reviews for a restaurant search with a simple tilt or see a 3D overhead view.  MORE
Larry Dignan dances around the Firefly:
Going into the review, I had expected that Firefly, which reads the surroundings and calls up data on specific objects, to be a hit. Firefly is basically Shazam for everything.

...

Firefly's database needs to evolve, but I think it's too early to make a call about whether the technology works out for the user or Amazon's e-commerce ambitions.  MORE
And Todd Bishop is quadruply sensitive to his surroundings:
Look closely...and you'll notice four sensors, one in each corner on the front of the device. These are cameras and infrared LEDs that detect the position of your head relative to the phone in real time.

...

But do these high-tech features actually make the Fire a better phone?

...

At times I've found myself wishing that Amazon had done less with the phone -- skipping the advanced 3D interface and gesture-based navigation.  MORE
Then, Jessica Dolcourt paints a still life picture:
[Camera] image quality itself was more than decent, though not spectacular. Edges were a little soft, exposure was off, details blended together, and colors tended to fade compared to real-life scenes.

...

Video capture in 1080p was smooth and audio was loud, though the camera struggled to adjust to some outdoor lighting conditions...even when I held the phone absolutely still.  MORE
Meanwhile, Matt Rosoff squares up against a boxer:
It's just so so so late to be releasing a new phone on a new platform, the Fire phone is like the Be Box of smartphones.  MORE
Computerworld Blogs Newsletter
Subscribe now to the Blogs Newsletter for a daily summary of the most recent and relevant blog posts at Computerworld.