OS X Yosemite will make the Mac sexy all over again. It will be the most rapid OS migration yet seen on a PC, driving yet more Mac market share gains. We'll see more Mac software releases than ever before, as developers and users climb aboard.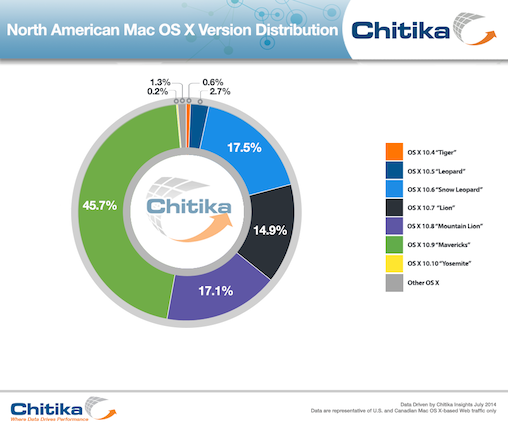 Developers, developers
Based on Web usage data, Chitika claims developers are actively using the unreleased OS almost four times as much as they used the then unreleased OS X Mavericks following WWDC last year.
The data:
After just three days, Yosemite users generated 0.15% of North American OS X Web traffic
It took Mavericks 30 days to achieve 0.05% share
Within one month of WWDC, Yosemite users generated 0.2% of North American Mac OS X traffic, around four times what Mavericks users generated last year in the same time frame
Mavericks users now generate 45.7% of all North American OS X Web traffic.
There's lots of reasons for this, of course: not only has Apple made OS X available to iOS developers for the first time, but it also seems more inclined to put the release into a wider community, and will make the release available to a million Mac users during summer.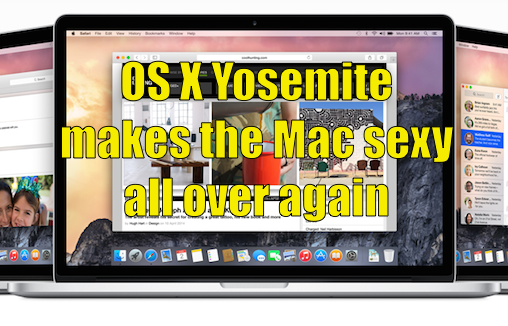 Developers, developers
What we are seeing is that developers are very, very interested in using the new OS:
There's more Apple developers than ever before, and if they are interested in using it, you can bet your bottom dollar they are developing for it.
And if four times as many developers are already working with the Yosemite OS for future products, then Mac users can look forward to a hugely expanded range of software titles for the platform.
That will drive further Mac adoption and use, and build better business for App developers.
Apple's most important WWDC in years saw developers thrown a huge range of tantalizing temptations, including, but not confined to:
Much improved iCloud integration;
A new programming language, Swift;
New frameworks for health and the connected home;
iOS/OS X Continuity
In summary, Yosemite refreshes the developer toolkit, enabling devs to add exciting new features to existing apps and to build new solutions we've never seen on Mac or iOS device until now.
[ABOVE: Craig Federighi shows how making things interesting is done.]
Developers, developers
So what could this frenzy of developer activity mean to Apple's users? Think about it: When you have thousands of developers developing for a new OS, what do you get? That's easy -- thousands of new products.
Apple's decision to open the floodgates between developers on both its mobile and PC platforms should foster new levels of PC/mobile integration in consumer and enterprise software.
Such interest quickly becomes a renaissance, and is certainly going to drive adoption of the OS. Given that Apple's PC market share continues to grow even as that of its competitors' erodes, it's clear the combination of public interest and exciting new software will help it gain yet more PC market share.
[ABOVE: Microsoft's old CEO had the right idea, but lacked the panache.]
PC market share declines
The Chitika survey is only representative of Web usage, but the results encouraged Chitika's Andrew Waber to tell Computerworld: "Yosemite will capture a significant portion of the North American Mac OS X user base in a comparatively short amount of time."
He expects the speed of Yosemite adoption to exceed that of Mavericks, which was itself faster than Mountain Lion. "There's little reason to think Apple won't be looking at faster adoption rates after the OS goes public in a few months," he said.
As Microsoft's Steve Ballmer famously believed, a platform needs an excited and active base of developers to succeed. He failed to build that platform. Apple did. Welcome to Mac world.
Also read:
Google+? If you use social media and happen to be a Google+ user, why not join AppleHolic's Kool Aid Corner community and join the conversation as we pursue the spirit of the New Model Apple?
Got a story? Drop me a line via Twitter or in comments below and let me know. I'd like it if you chose to follow me on Twitter so I can let you know when fresh items are published here first on Computerworld.