Short takes: Native Union's Jump Drive provides lightweight portable power
There are a large number of carry-along power devices available these days -- especially because less and less smartphones allow you to exchange batteries when you hit the dreaded 5% warning.
If you want something that will give your smartphone or tablet a full day of additional use, you're going to have to carry something that has sufficient power -- and weight. But if you're just looking for something that offers an hour or two of emergency power, and that won't make much of a dent in your pocket or pocketbook, there are gadgets such as Native Union's Jump Cable.
Native Union is a company that offers a variety of interestingly designed accessories for mobile devices. The Jump Cable ($50) is one of its latest: A small (1.96 x 1.96 x 0.53 in.) and lightweight (1.4 oz.) portable charger for smartphones.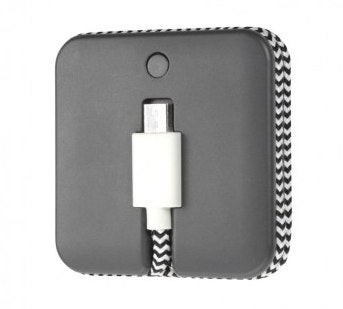 Like most of Native Union's products, the Jump is attractive and slightly different. It comes with its own USB and micro-USB (or Lightning) connectors; they are attached via fabric-covered cables that stretch about 7 in. on either side (for a total reach of 19 in.). When they are not in use, the two cables wrap around the periphery of the Jump and each connector settles into its own slot on either side.
The trick about the Jump is that you can use it as either a straightforward USB cable or as a power source. If you've got a computer nearby, you plug the Jump into the USB port and plug the other end into your phone -- and you're powering up your phone and, at the same time, topping up the Jump's 800mAh battery. (Three LEDs on the Jump indicate when its battery is completely charged).
Later, if you're running short of power and there's no other source handy, you can connect the Jump to your phone, press a small button, and it will give your phone a boost for an additional 2.5-3 hours of extra talk time.
The idea is an excellent one -- it's handy to be able to carry along a very lightweight battery that also lets you connect to an available power source (and powers itself back up in the process). The implementation is nice as well, although I did have to pull a bit to get the cables and connectors back into their slots (which made me worry a bit about their longevity).
In addition, the Jump isn't quite as handy as those chargers that come with their own USB-to-AC converters, since in my experience it's often easier to find a spare power socket than a spare computer.
But all that being said, the Native Union Jump Cable is small, nicely designed and a good way to keep your battery topped up when needed.
Shop Tech Products at Amazon