Computers don't teach, teachers teach, and Apple's sticking to Steve Jobs' vision for education by providing world class tools to help teacher's do just that -- in this case an update to iTunes U that delivers powerful course creation tools to education.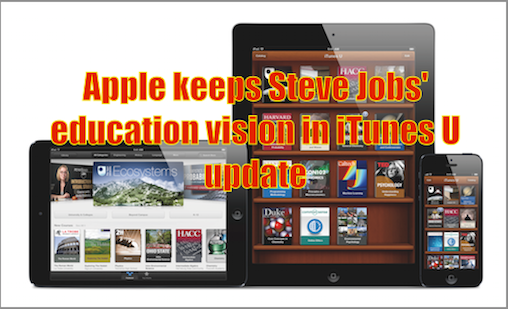 Empowering teachers, empowering students
The update was announced yesterday, and while most failed to pick up on it (presumably because education isn't seen as the essential topic it truly is if you value the fate of future generations), I thought I'd tell you about it.
From July 8, the update means teachers using the free iTunes U app will be able to create, edit and manage entire courses directly on an iPad for the first time. Not only this, but students will be able to collaborate together, start discussions and ask questions using their iPad: it's a way to help mobile learning become more student-centric by putting the teacher in their device and turning iPads into textbooks.
"Education is at the core of Apple's DNA and iTunes U is an incredibly valuable resource for teachers and students," said iTunes chief, Eddy Cue.
Teachers gain full course creation capabilities to the iPad, including the capacity to directly add rich content and materials from IWork, iBooks Author or any of 75,000 available iPad educational apps. They will also be able to use the camera to capture relevant photos and videos, making their lessons more relevant.
Getting students interested
In a press release, Fraser Speirs, head of computing at Scotland's Cedars School of Excellence said. "By freeing teachers to create and organize courses right on iPad, educators can be better focused on enabling student participation both with the content and one another."
Students can enroll in private iTunes U courses to access course materials, have discussions with classmates, set up push notifications to be alerted to new topics and more features designed to make lessons collaborative and interesting.
Apple's educational presence and the effectiveness of its tools mean it already offers the world's largest catalog of educational content from top education institutions worldwide. You don't get this anywhere else, so there are already over 7,500 private and public courses across all disciplines.
What's key about what Apple offers education is its focus on empowering students and teachers to learn in their own way, at their own time. That may mean little to some, but this kind of holistic, user-focused learning has been proven again and again to be effective. It's the same basic principle that drives the BYOD movement in the enterprise -- the notion that a person free to explore in their own autonomous manner can take more joy in what they do, and therefore be more productive. (There's an interesting case study to explain this here.)
Learning for life, not for grades
School's are limited by a seemingly endless desire to subject children to frequent stressful tests, eliminating a sense of curiosity and engagement in exchange for instilling fear of failure. This means kids don't get the education they need to apply in their life, they just learn to get good at tests. No wonder they aren't interested.
iTunes U enables the best and most committed educators to share their enthusiasm for their topic with students worldwide -- and that's a pretty good testament to the ever-curious, ever-challenging nature of former CEO, Steve Jobs.
It may interest some readers to know the only book on Jobs' iPad, which he read annually, was the spiritual classic Autobiography of a Yogi. The author, Paramhansa Yogananda created "how-to-live schools" focused on the balanced development of the body, feeling, will and intellect. Interestingly, Jobs nearly sent his own child to an Ananda Living Wisdom School — a modernized version of Yogananda's vision.
Google+? If you use social media and happen to be a Google+ user, why not join AppleHolic's Kool Aid Corner community and join the conversation as we pursue the spirit of the New Model Apple?
Got a story? Drop me a line via Twitter or in comments below and let me know. I'd like it if you chose to follow me on Twitter so I can let you know when fresh items are published here first on Computerworld.
UPDATED: Added new information on case studies and clarification of some points.