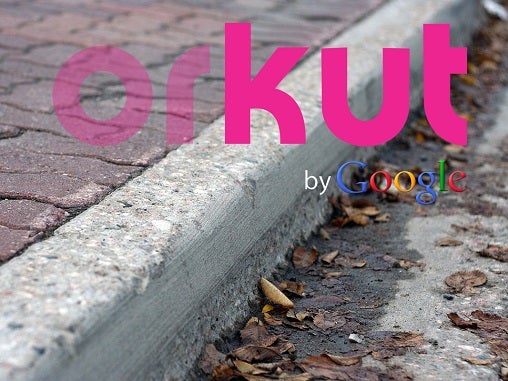 Orkut: Thrown to the curb.
Hoping that World Cup soccer is an effective distraction, Google (NASDAQ:GOOG) showed it's appreciation of all things Brazil yesterday, revealing the scheduled doom-date for its social media network Orkut. Mostly unknown in the U.S. and Europe, Orkut stands fairly popular with users in Brazil and India.
Google, busy throwing everything under the umbrella of Google Plus, has decided Orkut isn't worth its panoptic efforts, starting a social media diaspora of soon-to-be-ex Orkut users. Users who -- in all likelihood -- are now looking to join any social network not owned by Google.
In IT Blogwatch, bloggers reminisce, analyze, and draw parallels to Google Plus.
Filling in for our humble blogwatcher Richi Jennings, is a humbler Stephen Glasskeys.
Caitlin McGarry hasn't heard that name in a long time:
A decade ago, Google launched its first social network. Called Orkut after its creator...Orkut Buyukkokten, Google launched the network just months before Harvard student Mark Zuckerberg brought Facebook to the world.

...

The more surprising part of that news is that Orkut was still around at all. In 2008, Google shifted Orkut's operations to Brazil, where the network had taken root and cultivated an active user base.  MORE
We find Jon Gold weighing the minuses and pluses:
Orkut joins a long list of...social media projects...Buzz, Wave and Friend Connect...on Google's compost heap. The company, as yet, hasn't been able to make the same impact on social media that it has made in the online advertising and services sectors. Google Plus, is three years old and still struggles for the same relevance as competitors like Facebook and Twitter.  MORE
Before shutting down, Richard Nieva starts a backup:
Google touted the growth of Google+, as well as YouTube and Blogger, as a reason it decided to shutter Orkut.

...

The site will officially go dark on September 30. Existing users can export their photos and profile information using a service called Google Takeout, but new users are no longer able to set up accounts.  MORE
Paulo Golgher bids a kind farewell:
We will shut down Orkut on September 30, 2014. Until then, there will be no impact on current Orkut users, to give the community time to manage the transition. People can export their profile data, community posts and photos using Google Takeout (available until September 2016). Starting today, it will not be possible to create a new Orkut account.

...

Orkut, the service, may be going away, but all of those incredible communities Orkut users have created will live on. We are preserving an archive of all public communities, which will be available online starting September 30, 2014.  MORE
Rise and Fall of the Roman Empire is one of Lauren Orsini's favorite reads:
ReadWrite has been covering underdog Orkut since its invention. We followed its rise to dominance in India and Brazil and its ever-constant (if somewhat understated) battle with Facebook for the eyeballs of international social media users.

...

We took a peek into the archives to highlight some major moments in Orkut history.  MORE
So Liz Gannes decides to take a stroll down memory lane:
Let's stroll down memory lane for a moment and remember the circumstances of Orkut's launch in 2004, after Google had tried to buy Friendster and two weeks before the first appearance of Facebook.  MORE
Meanwhile, Mark Gurman refers to two social networks, on yet another social network:
Due to the success of Google+, Google is shutting down Orkut  MORE
Computerworld Blogs Newsletter
Subscribe now to the Blogs Newsletter for a daily summary of the most recent and relevant blog posts at Computerworld.