Football (Americans call it "soccer") madness is breaking out across the USA for the FIFA World Cup this year, but there's a little known Mac story behind the games, one that may have implications on Apple's Next Big Thing, the rumored iWatch.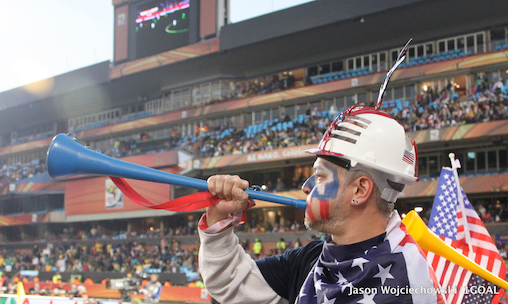 [ABOVE: USA versus Algeria from inside the stadium, c/o Jason What.]
Mac-only sports analysis
Sportstec's SportsCode video performance analysis solution was deployed by 18 of the 32 teams competing in the World Cup this year, and six teams still in the game: Brazil, Chile, Mexico, Argentina, Belgium and France. SportsCode is a Mac-only video analysis system (with a variety of supporting tools) that, among other things, lets coaches and players review match events in real-time. It provides granular in-depth analyses that teams rely on. Sportstec also helps assess the performance of opponents, identifying strengths and focusing on their weaknesses.
Why is Sportstec's system Mac only? CEO Philip Jackson told me in 2006:
"Macs handle video better and faster than any other platform. The system is so video-based that it needs a robust platform -- the referee won't stop the game because the computer's crashed."
What this means is that if you've been watching the FOOTBALL you may sometimes glimpse trainers sitting by the pitch holding a Mac. They weren't taking a little in-match me-time to glance at phony iPhone 6 images -- they're studying the game using SportsCode.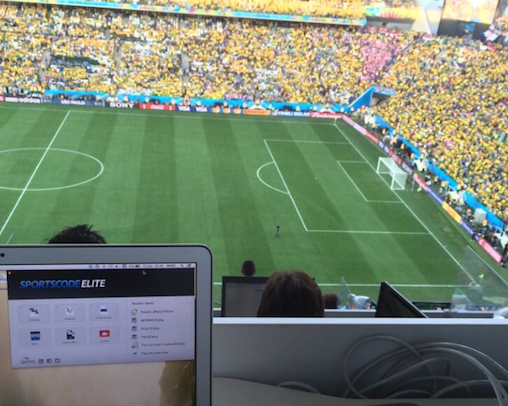 [ABOVE: c/o Sportscode/Pinterest - the view Croatian performance analyst, Nicolas Jover, enjoyed during Brazil vs. Croatia at the World Cup.]
How it works (in brief):
During a match, the system captures video from cameras around the pitch (including broadcast footage) and an analysis team inputs data to describe events like tackles and scores. Team coaches can use the analysis the system generates to help clarify understanding of the game. The system also delivers post-match analysis tools and the capacity to output key moments to a player's mobile devices for playback and training.
"The information the system can provide during a game and straight after in so much detail can help us answer any questions straight away," said David Fallows of Bolton Wanderers football club in the UK.
These Mac-only solutions don't guarantee victory, but they can help:
"Technology itself does not have a direct impact on the play itself. But it does help us to control each situation that happens during the games," explains Spain's performance coach, Antolin Gonzalo Martin.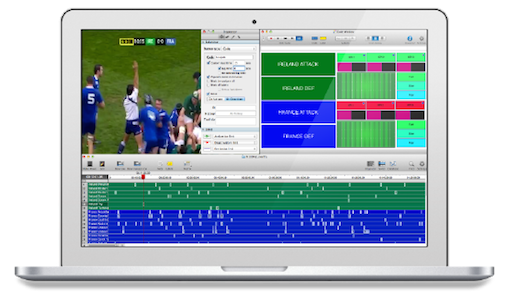 Widely used
It's not just used in football, of course: the Mac-only solution is widely use across basketball -- 28 of the top 30 NBA teams -- field hockey and beyond. It even has implications in health and medicine.
Basketball's famed Coach K (Mike Krzyzewski of Duke) uses the system to build accountability in the U.S. team. "He can identify and highlight a particular aspect of a player's play and highlight to him exactly where he needs to improve. He has used analytics to bring these superstars around and instill responsibility," explains Jackson.
Technology doesn't stand still, of course, and in future we may yet see a perfect match between Apple's sensor-laden, health-focused iWatch and Sportstec's performance analysis system.
iWatch rumors can start like this
Think about it: Just how useful would it be for coaches to have real time data on a sports player's blood pressure, heart rate, temperature and other fitness indicators during a match? Compare figures during the game with previous analysis and trainers would have better insight than ever into a player's in-game potential.
With that in mind, this perhaps is the sort of real world implementation Apple is currently discussing during those secret meetings with sports people the company is rumored to have been holding. You see, unlike many of its competitors, Apple doesn't simply throw technology at the wall to see what sticks; it seeks to craft advanced, yet simple, solutions that people actually love and use. Enjoy the soccer, USA.
Google+? If you use social media and happen to be a Google+ user, why not join AppleHolic's Kool Aid Corner community and join the conversation as we pursue the spirit of the New Model Apple?
Got a story? Drop me a line via Twitter or in comments below and let me know. I'd like it if you chose to follow me on Twitter so I can let you know when fresh items are published here first on Computerworld.